This is a performance analysis and review article of the Sigma Art 50 mm F1.4.
We analyze the lens performance through simulation by inferring the design values of the optical system from patent information and actual photographic examples.
Professional lens designer Hitoshi Takayama carefully unravels design information such as optical path diagrams and aberration characteristics, which are rarely seen by the general public, and explains them in depth and gently.
Please enjoy the special information that can only be read on this blog.
Overview
Sigma's Art lens series is a flagship model that combines a high-grade appearance with metal parts and high resolution performance.
The 50mm F1.4 Art lens introduced in this section is a large-aperture lens with extremely high performance, and was a revolutionary lens that even changed the direction of full-size digital SLR lenses from various companies.
Private Memoirs
When the SIGMA 50mm F1.4 Art lens introduced in this section was released, standard lenses were all double-Gaussian lenses, the most basic of the basics, with similar lens configurations.
The SIGMA 50mm F1.4 Art was about twice the size of a typical double-Gaussian, and it was beyond my comprehension at the time of its release as to who would buy it and for what purpose…
From today's perspective, the result seems to have opened up a new genre and user base, partly because it matched the expansion of the market for full-size digital SLRs with higher pixel counts and lower prices.
Continuing from the article on the SIGMA 35mm F1.4 Art, I will analyze the Art series single focal lengths.
This will be part of our effort to create a standard (benchmark) for modern optical design values.
Sigma's Art single focal length lenses are designed with a very straightforward concept of "performance-oriented, size-neutral" and are therefore easy to use as a benchmark for performance.
Document Survey
Now, when I checked the patent literature, I easily found patents that I thought were relevant to this product since it is a modern product. Since Special Publication 2 is close to the product in appearance from the atmosphere of the cross-sectional drawing, let's assume the design value and reproduce the design data as follows.
Notes!
The following design values have been selected and reproduced from the appropriate patent literature and do not correspond to the actual product. Naturally, the data is not guaranteed, and I am not responsible for any accidents or damages that may occur by using this data.
Analysis of Design Values
Optical Path Diagram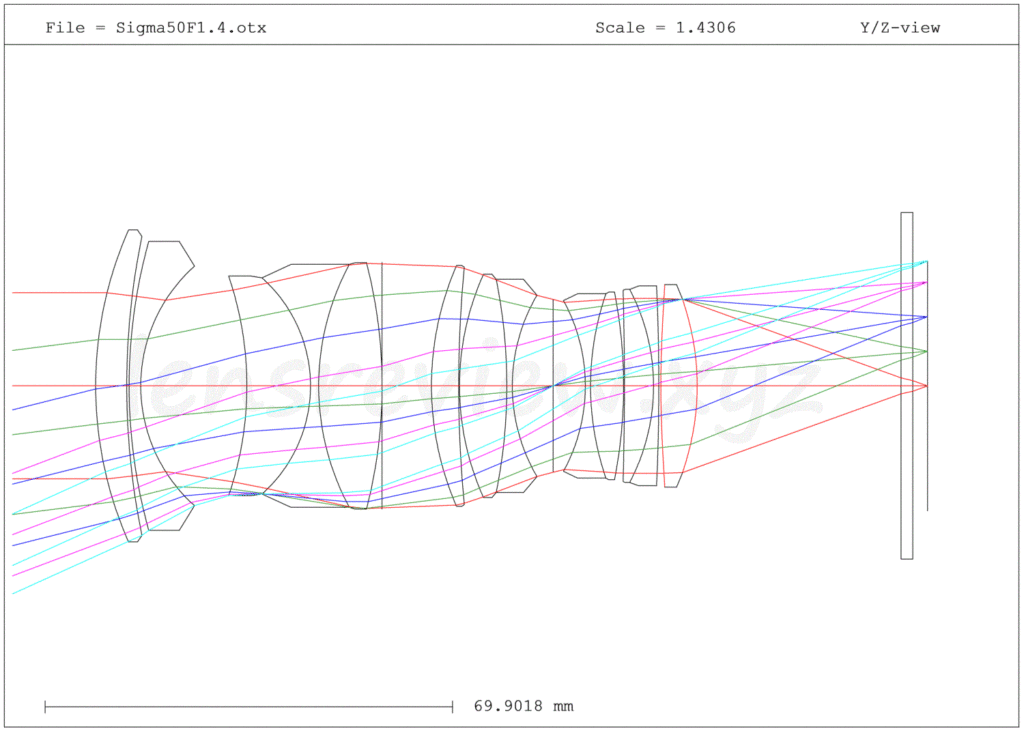 The above figure shows the optical path diagram of the SIGMA Art 50 F1.4.
The lens has 13 elements in 8 groups, with an aspherical surface on the final lens closest to the image sensor to correct spherical aberration and curvature of the image plane at the same time, and 3 elements of special low-dispersion material for good correction of chromatic aberration.
A typical double Gaussian lens consists of six elements, but this one has 13 elements, more than twice as many as a standard double-Gaussian lens, and also includes an aspherical lens, so you can expect performance that is three times better.
The basic structure of the lens consists of a front group of 5 elements on the subject side that is fixed for focusing, and a rear group on the image sensor side that handles the focusing operation.
Should I describe it as looking like a front converter attached to the front side of the rear group of a Gaussian structure? Compared to the common Gaussian type, this configuration has a unique color.
Longitudinal Aberration
Graphs of spherical aberration, image surface curvature, and distortion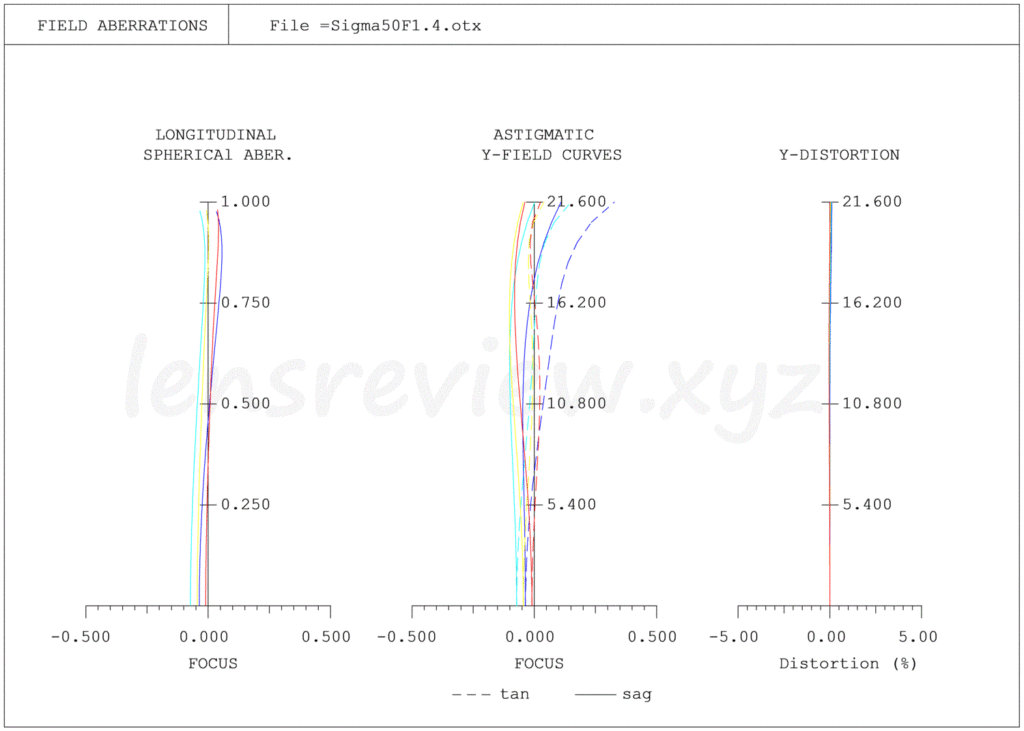 Spherical Aberration , Axial Chromatic Aberration
The spherical aberration is so abbreviated and linear in its characteristic diagram that there is no point in explaining it.
Generally, a full-correction type lens with a spherical aberration shape that bulges to the minus side makes it easier to balance image plane fluctuations at small apertures, but this lens is designed to withstand fluctuations at small apertures by reducing aberrations and improving resolution performance.
Image Surface Curvature
Beyond the middle portion, there seems to be a little image curvature and non-point septation.
Distortion
Originally, the symmetrical arrangement of Gaussian-type lenses results in zero distortion. This lens has a very symmetrical lens configuration, which may cause aberration to deteriorate significantly, but it has been suppressed to the zero level.
Chromatic Aberration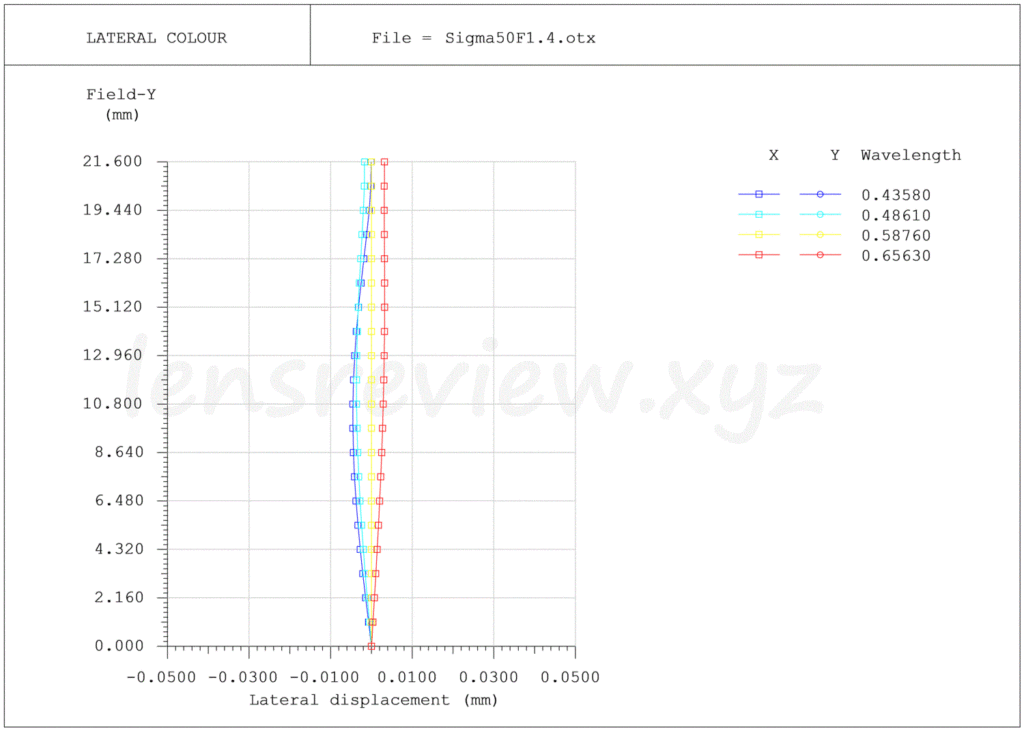 The lens also has well-corrected lateral chromatic aberration. The double-Gaussian lens, which is the standard 50mm lens, has a special structure with a symmetrical arrangement that minimizes lateral chromatic aberration.
This lens is a departure from the double-Gaussian lens, which may have been a difficult task, but it achieves aberration correction that approaches that of the double-Gaussian lens.
Transverse Aberrations
(Left)Tangential direction, (Right)Sagittal direction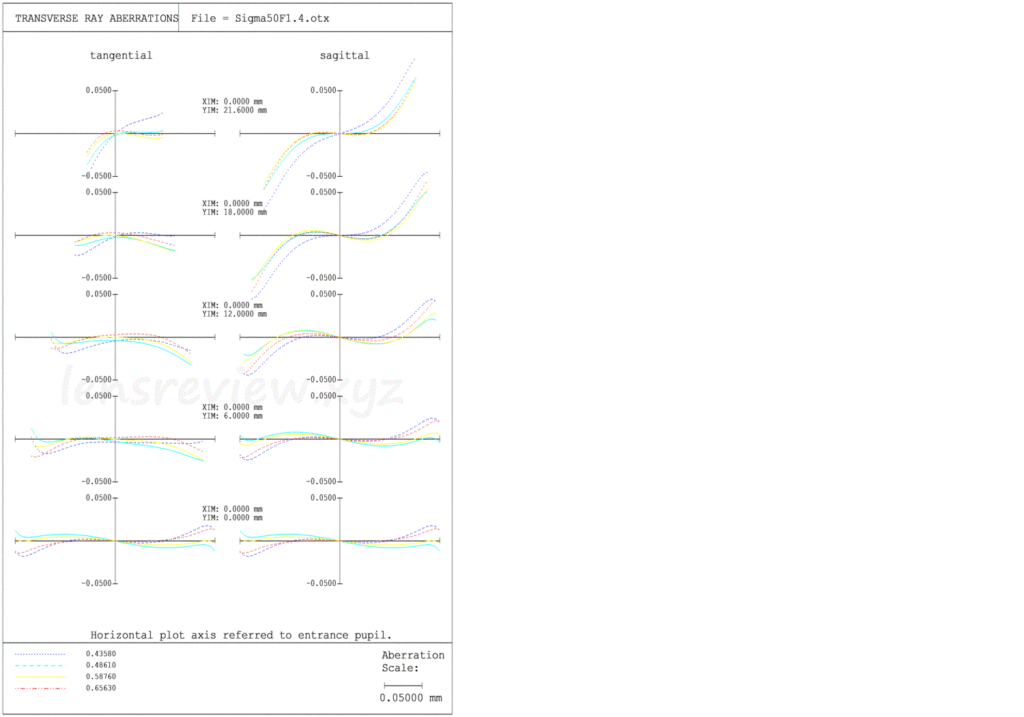 Halos in the sagittal direction are extremely small considering the Fno1.4 specifications.
In the tangential direction, there is a bit of coma aberration starting at an image height of about 12mm, and I am concerned about the possibility of MTF degradation.
Spot Diagram
Spot Scale 0.3 (Standard)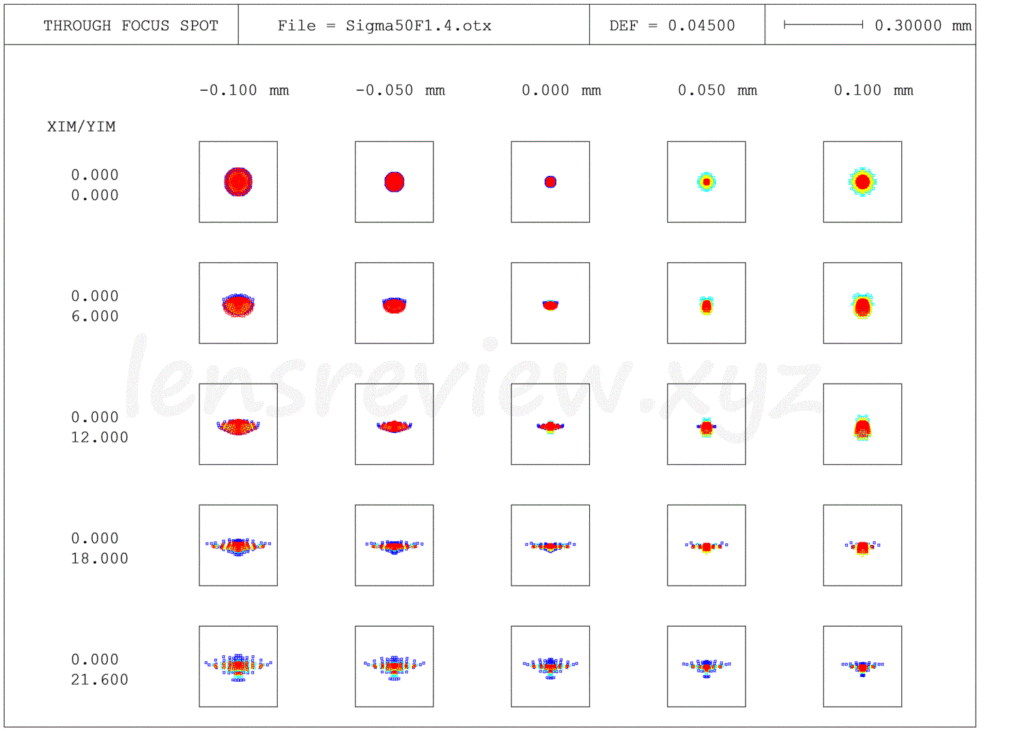 It is nicely organized for an F1.4 specification. Sagittal flare is small enough compared to the Gaussian type, but if you are shooting night scenes or stars, it is better to stop down by about 1 stop.
Spot Scale 0.1 (Detail)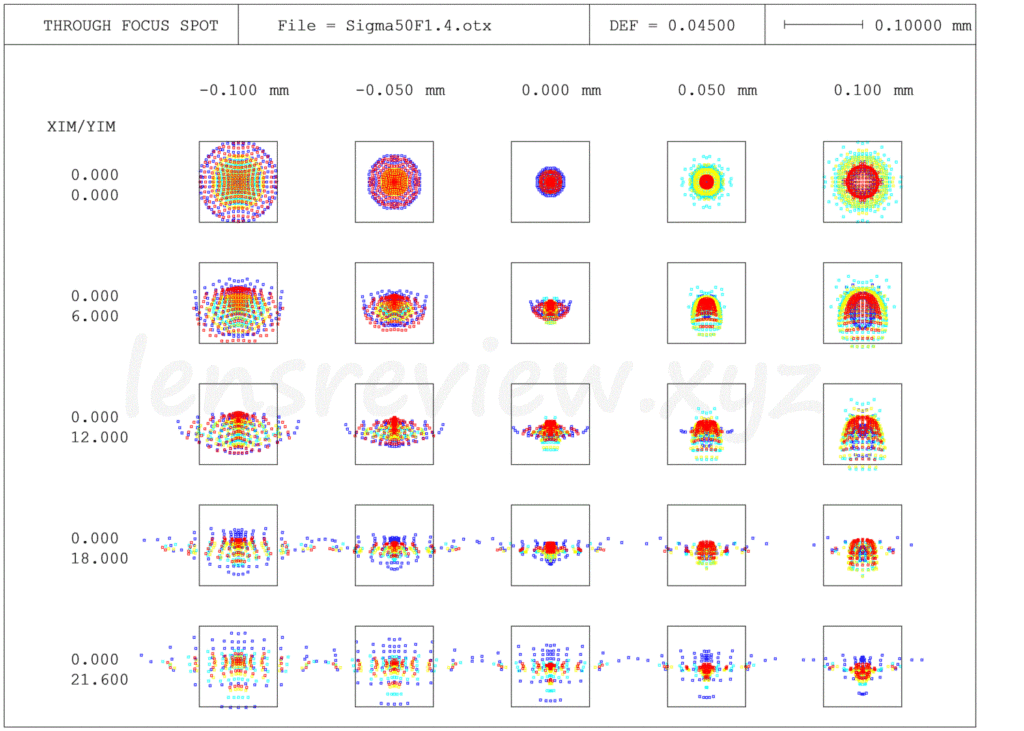 Here is an enlarged view with the scale changed.
MTF
Maximum Aperture F1.4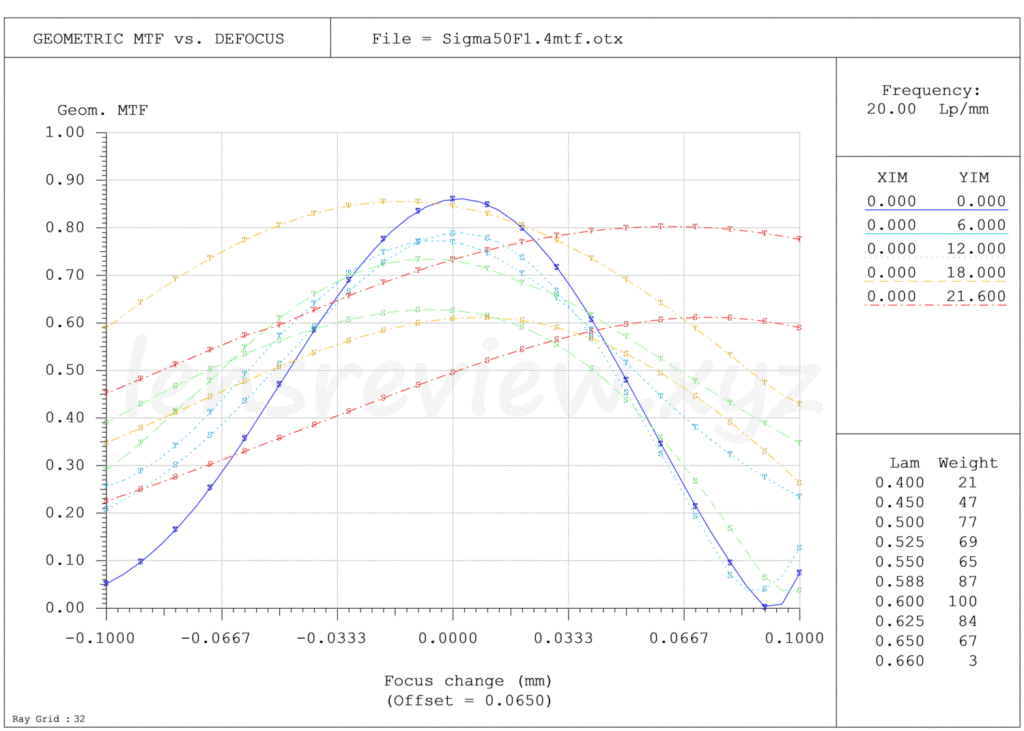 The central region is unquestionably high, and there seems to be little image plane fluctuation. As seen in the lateral aberration, the apex of the image drops due to coma aberration when the image height exceeds 12mm, but compared to ordinary Gaussian-type lenses, the performance is already on a different level.
Small Aperture F4.0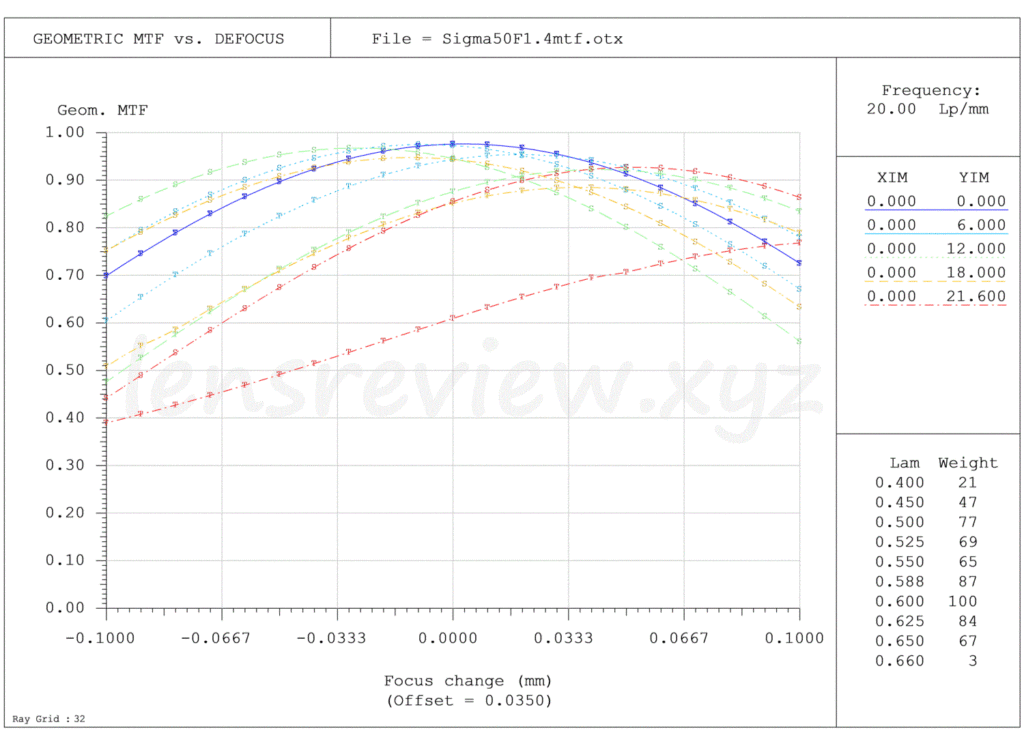 The MTF peak height is almost perfect from the center of the image to around 18mm in the periphery.
The reason why the height of the peaks at the periphery improves can be seen in the lateral aberration diagram, which shows that the aperture cuts out the coma aberration that remains above 12mm image height in the tangential direction.
Conclusion
Compared to Gaussian-type optics, aberrations are remarkably corrected all the way to the periphery. Everyone will agree that this is a high-cost lens, since it has been on the market for some time and the price has become more reasonable.
If you have an acquaintance who is looking for a high performance 50mm F1.4 lens, and if weight is not a problem, this is the first lens I would definitely recommend.
It is interesting that after the SIGMA 50 1.4, various companies have introduced high-performance 50mm lenses, but it seems that the trend toward larger lenses in exchange for performance cannot be stopped, and in fact, the first SIGMA lenses look smaller than we are accustomed to seeing them.
I would like to see more products that combine miniaturization and high performance in the future.
Sample Picture
Now preparing
If you are looking for analysis information on other lenses, please refer to the table of contents page here.