This is a performance analysis and review article of the PENTAX FA 31mm F1.8 Limited
You hardly understand the specific differences in how the lenses work and how their performance differs from each other, do you?
Even if you look it up in magazines or on the Internet, all you will find are similar "word-of-mouth recommendations" and articles like that.
In this blog, while researching the history of lenses and their historical background, we estimate lens design performance based on patent information and actual shooting examples, and analyze lens performance in detail from a technical viewpoint through simulations.
Professional lens designer Jin Takayama will carefully unravel optical characteristics such as optical path diagrams and aberrations, which are generally not visible, and explain the taste and descriptive performance of lenses in a deep and gentle manner.
Now, please enjoy the special information that you can read only on this blog in the world.
Overview
The high-performance series of PENTAX lenses is named "Star" while the compact high-performance series is named "Limited."
"Star" The lens is a professional specification that does not compromise the performance, has robustness, dust and drip-proof, and as a result, the size tends to be large.
On the other hand, the Limited Series is not simply a small product. It is a premium product that is made from metal with a high texture and features manual operation such as a draw-control ring. It is also a product that emphasizes the "joy of owning."
As of this writing (2020), three types of Limited lenses for full size are on the market. This section describes the 31 mm F1.8.
As with the 31 mm lens this time, all the Limited lenses have slightly different focal lengths.
As you can see on the official website, the focal length of 31 mm means between 35 mm and 28 mm.
It would be interesting if I was aware of the Smc PENTAX 30 mm F2.8 released in 1976, but unfortunately I did not find such information.
Amazon Product Link
Click here to check prices
Private Memoirs
The overall concept of the Limited Series is small size and high performance. This 31 mm F1.8 has a wide focal length and a large aperture of "F1.8", so you can see that it also takes into consideration the blur.
If you just want to make it smaller, you can make the Fno a little darker, but on the contrary, you make it brighter.
If it is 31 mm, I don't think F2.8 is strange, but since it is bright up to F1.8, I can't help but say "handsome".
The PENTAX 31 mm F1.8 went on sale in 2001, but at the end of the film age and the dawn of compact digital cameras, it was still a while before digital SLRs became widely available.
It was only after the spread of digital single-lens reflex cameras that the bokeh effect became especially important in the depiction of lenses.
In this period, the brightness of the Fno was still used to release the fast shutter.
In addition, film cameras cannot be readjusted, and unlike digital cameras, it is difficult to take a large number of pictures. Therefore, it was considered to be the correct manner to "refrain from taking pictures in the open as much as possible" in case of focus failure.
I think it was only in the era of medium telephoto for portrait or macro that people were asked about bokeh, and the people who were asked were only professional class or "people who seemed to have sunk into the bottom of a pond".
In such an age, PENTAX seems to have had a person with a fearsome foresight who said, "Even with a wide angle, importance is placed on the blur of opening."
Also, looking back at the viewing environment, it was difficult to exchange photo data because the Internet in this period was an ultra-low-speed line and many people had analog lines.
To appreciate photos, printed materials such as photo prints and books were still main.
Of course, only a small number of people can print in large sizes, so it was not the time when many people could view photos with enough picture quality to talk about bokeh.
Let's carefully analyze the PENTAX 31 mm F1.8, which was released at that time and can be said to be a rare item that was released too early.
Document Survey
Now, patent application strategies vary from manufacturer to manufacturer. Some manufacturers submit all the ideas they come up with, some carefully select them, and some rarely submit them. PENTAX is a relatively carefully selected manufacturer, so you can find it easily by searching.
Assuming that Example 1 of Japanese Patent Application Laid-Open No. 2002 / 040325 is commercialized from its appearance and specifications, the design data will be reproduced below.
Notes!
The following design values have been selected and reproduced from the appropriate patent literature and do not correspond to the actual product. Naturally, the data is not guaranteed, and I am not responsible for any accidents or damages that may occur by using this data.
Analysis of Design Values
Optical Path Diagram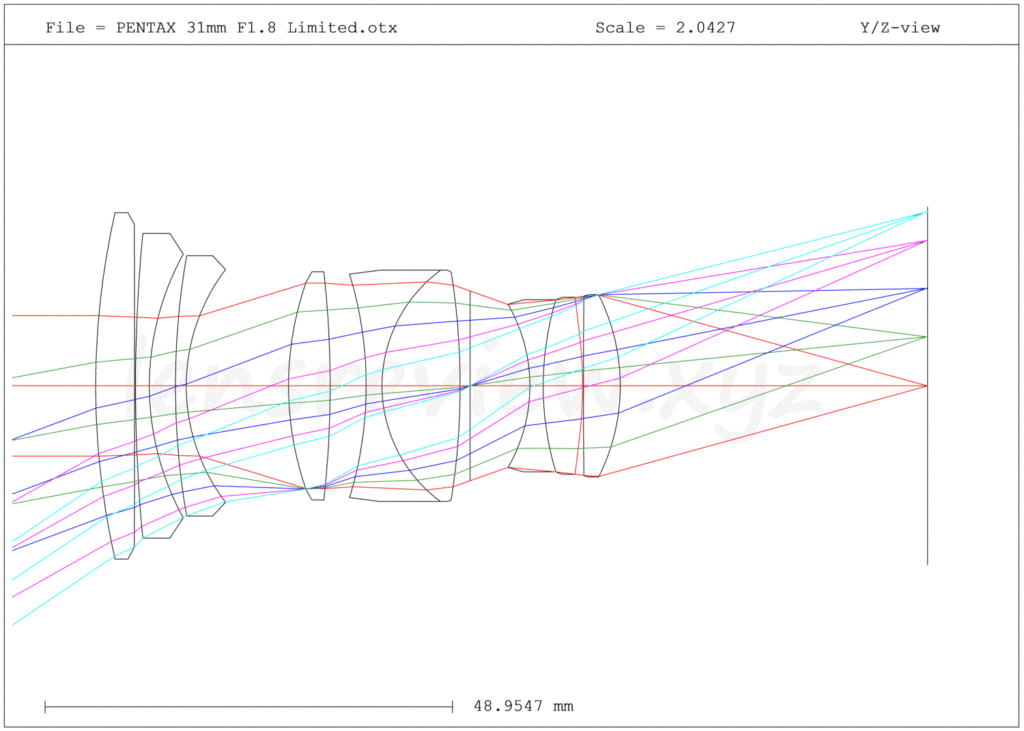 The above diagram shows the optical path of the PENTAX 31 mm F1.8.
It is composed of 7 groups and 9 lenses, and uses 1 aspherical lens.
This is a retro arrangement generally seen in wide-angle lenses, with the negative lens group slightly spaced apart on the subject side.
According to the examples analyzed in the past, is it possible to say that the shape is like a combination of NIKON 28 mm F2.8D and NIKON 35 mm F2.0D?
In terms of focal length, it is between 2 NIKON lenses, but since the Fno is brighter, F1.8, it has a structure like adding up.
It seems that aspheric lenses were put in to suppress aberration due to large aperture.
Not too gaudy or too plain, this section has a functional and beautiful shape that should be called "manly".
Longitudinal Aberration
Graphs of spherical aberration, image surface curvature, and distortion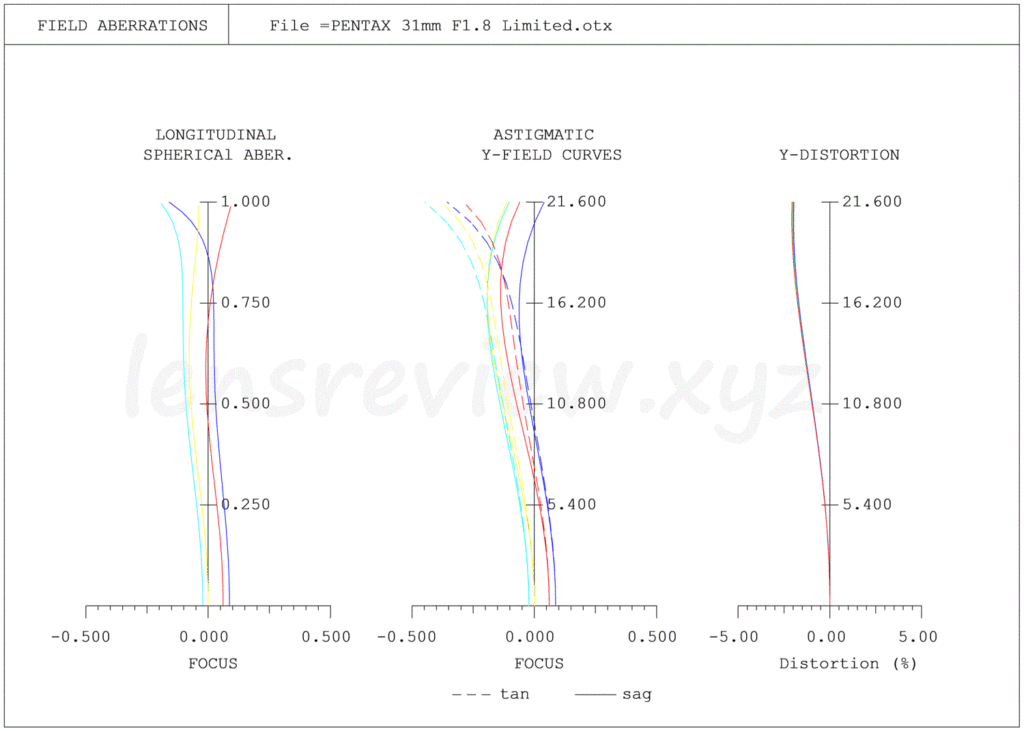 The spherical aberration is a full collection shape with a bulge on the minus side that seems to have a slight taste, but it can be seen that it is quite small when considering the specifications of wide angle and large diameter.
I can't say axial chromatic aberration is the smallest, but wide-angle lenses will be smaller, so it doesn't seem to be a particularly problematic value.
The NIKON 28 mm F2.8D and NIKON 35 mm F2.0D mentioned above are different in price range, release time, and product concept, so I cannot comment on them side by side, but compared to the NIKON case, it is clear that the aberration is well corrected.
Field curvature is left negative to match spherical aberrations.
When spherical aberration is left, the balance with that side is important and it does not mean that it is good if it becomes 0, so let's check the final balance by MTF.
The distortion aberration is reduced to a sufficiently small value in spite of the large aperture, wide angle and compact size.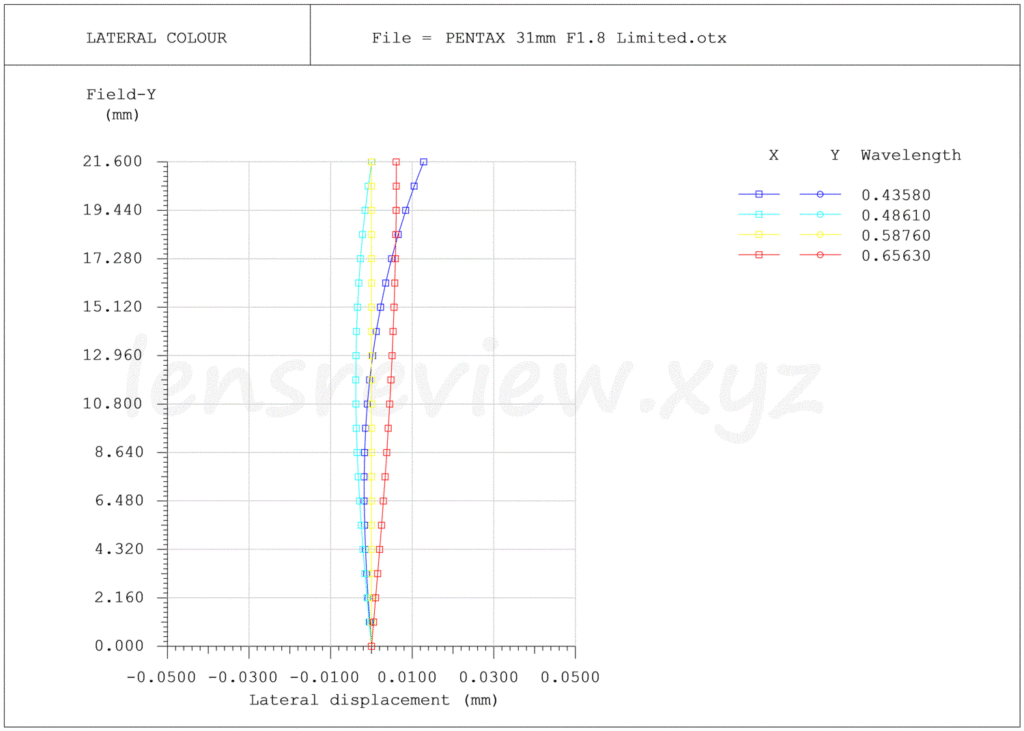 Lateral chromatic aberrations can't be called minimal, but it's well compensated for this class.
Transverse Aberrations
(Left)Tangential direction, (Right)Sagittal direction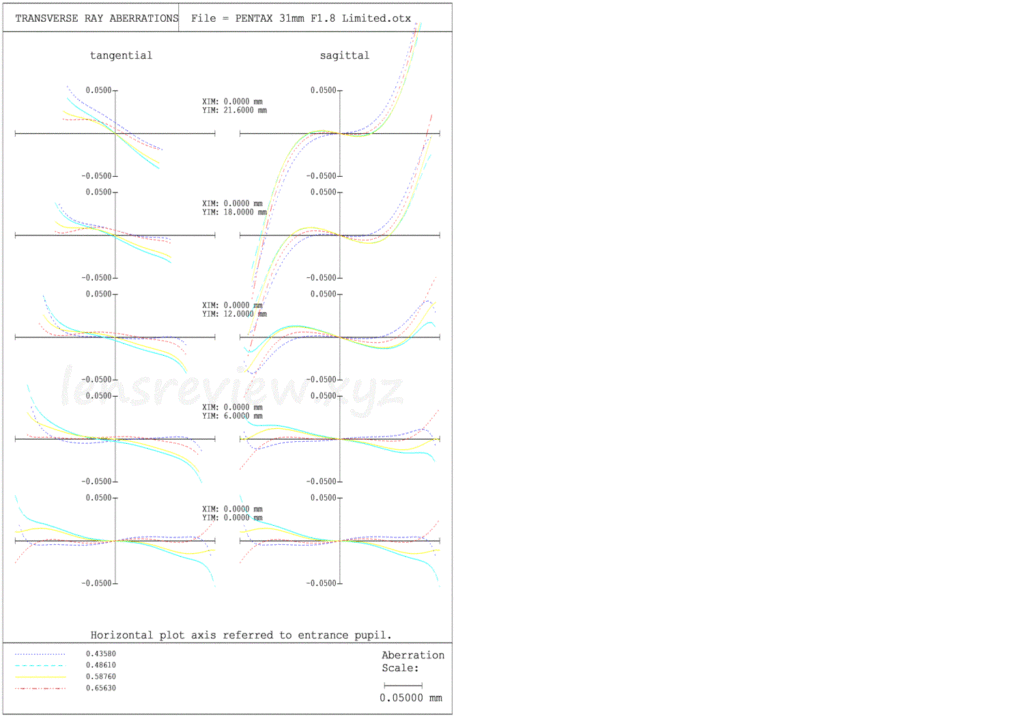 Let's look at it as transverse aberration.
When looking at the tangential direction in the left column, as a large aperture wide-angle lens, there is little change in the characteristics at each image height, and you can feel a beautiful unity.
Because of less coma aberration (asymmetry), you can look at the clear view of the aberration diagram.
On the other hand, it leaves a strange halo (tilt) uniformly in the screen. It may be to adjust the focus position with MTF, but there seems to be an aim of Limited lens which is particular about the blur.
In the sagittal direction, the sagittal frame remains as it seems to have a large aperture, but I think you can see that it is still drastically reduced compared to the NIKON lens.
Spot Diagram
Spot Scale 0.3 (Standard)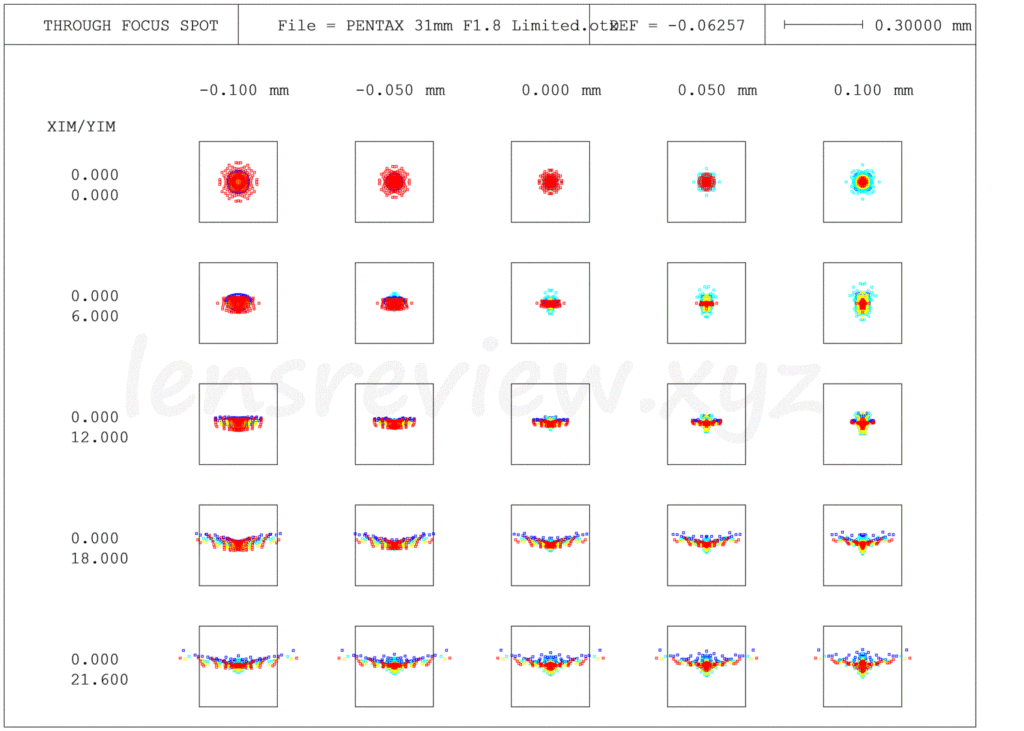 Now we are going to look at the optical simulation results, but at the spot diagram first.
The spot diagram has a slightly strange shape up to up to 12 mm in height in the middle of the screen.
This unique spot shape seems to be the feature of this lens which emphasizes the blur.
When the image height around the screen exceeds 18 mm, it becomes a V shape characteristic of large aperture.
Spot Scale 0.1 (Detail)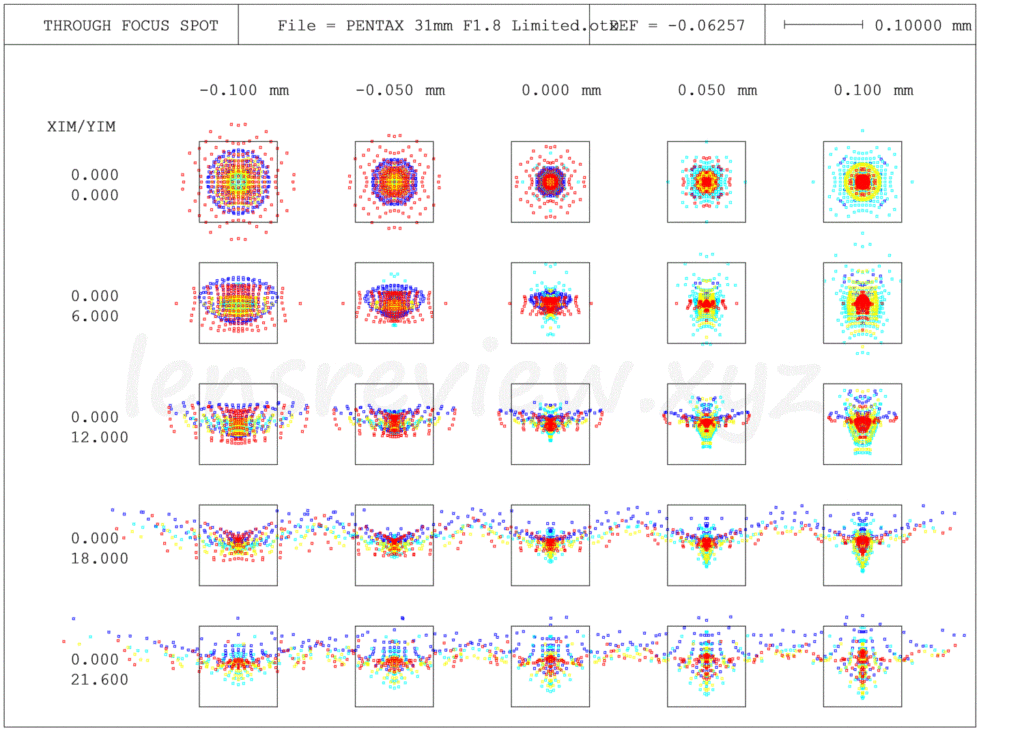 This is a scaled and enlarged view of the flare spot.
Since it is a scale for a modern super high resolution giant lens, it doesn't seem to be suitable for this lens which emphasizes the blur.
MTF
Maximum Aperture F1.8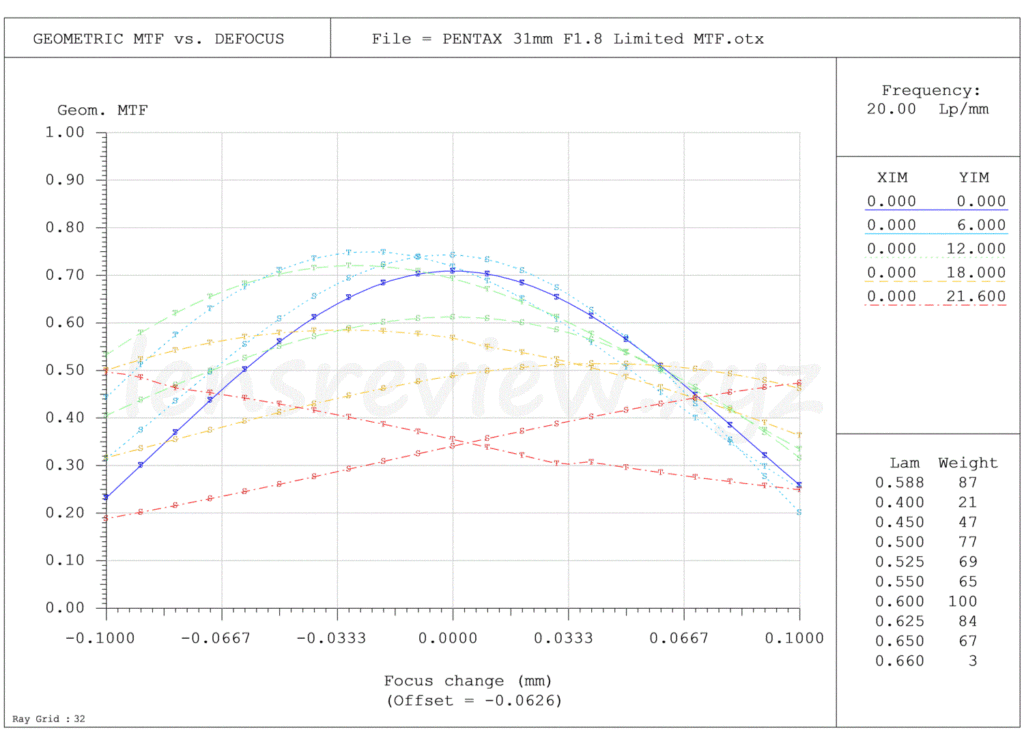 Finally, let's review the results of the MTF simulation.
It seems that the MTF of the open Fno is high enough for practical use in spite of the large aperture and wide angle specification, and the balance of the position is also good.
Small Aperture F4.0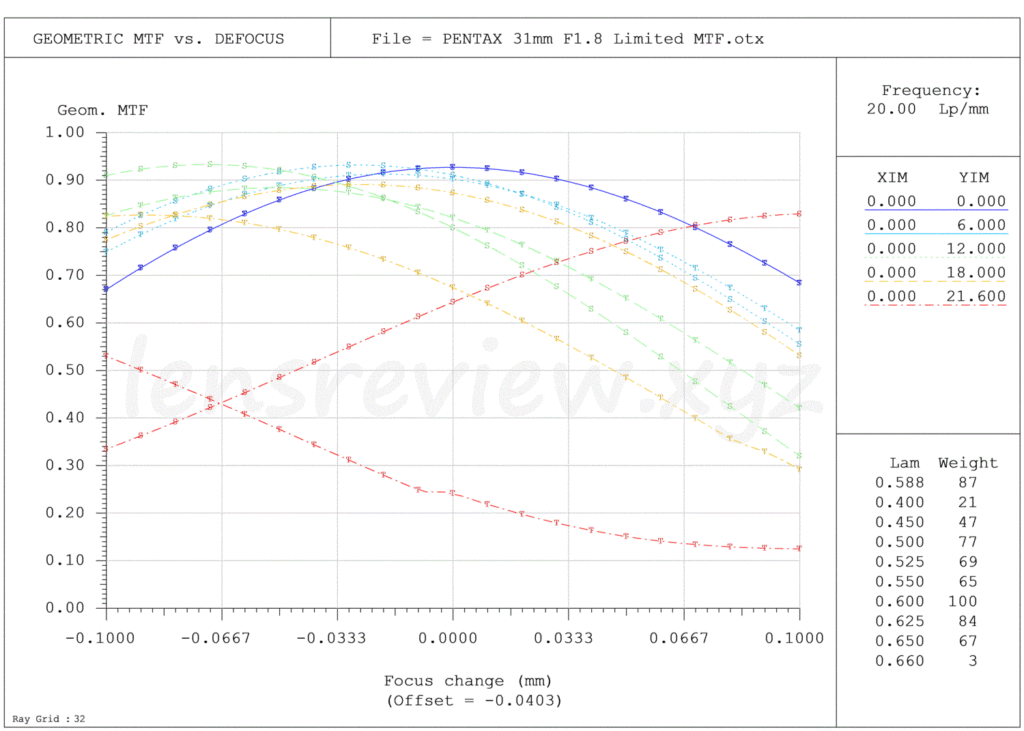 It can be seen that the height, which is slightly lowered due to the slight spherical aberration left in the open Fno, is recovered by narrowing down. It seems that a slight deviation of the peripheral part remains.
Conclusion
The exterior of the product is small, yet has a fine texture and high design quality.
Aberration correction is neither too much nor too little, but it also leaves a non-mineral taste.
It is an aberration diagram that has been corrected "appropriately" at a level that is hateful when considering the specifications of large aperture, wide angle and small size.
It is possible to design a lens with less aberration by machine, but it requires natural artistry to leave it properly.
I think that one of the reasons why Japan became an optical superpower was that it had the ability to form a unique atmosphere that did not seek perfection, such as "apology and silence", and the common aesthetic of "aberration correction (residue)", and that was why it was a nation that was nationally suited to optical design.
Aside from the side story, to sum up in one word, I also wanted to design one product like this in my life, and the performance was breathtaking.
Sample Picture
Example photos are in preparation.
If you are looking for analysis information on other lenses, please refer to the table of contents page here.