This is a performance analysis and review article of the NIKON NIKKOR Z 14-24mm F2.8 S Wide range
You hardly understand the specific differences in how the lenses work and how their performance differs from each other, do you?
Even if you look it up in magazines or on the Internet, all you will find are similar "word-of-mouth recommendations" and articles like that.
In this blog, while researching the history of lenses and their historical background, we estimate lens design performance based on patent information and actual shooting examples, and analyze lens performance in detail from a technical viewpoint through simulations.
Professional lens designer Jin Takayama will carefully unravel optical characteristics such as optical path diagrams and aberrations, which are generally not visible, and explain the taste and descriptive performance of lenses in a deep and gentle manner.
Now, please enjoy the special information that you can read only on this blog in the world.
Overview
This is a large diameter super wide-angle zoom lens for NIKON's mirrorless full-size single-lens Z-mount camera.
The previous model was AF-S NIKKOR 14-24mm f/2.8G ED (released in 2007) with the same specification, but it was redesigned for mirrorless single-lens use after more than 10 years.
About 2 years have passed since the release of NIKON mirrorless single-lens Z series at the time of this writing (Fall 2020), but the Z mount lens is clearly developed in the line-up focusing on the wide-angle lens, and it is the lens that symbolizes it.
Looking at the advertisement in the catalog, we can see that we have achieved high performance, small size and light weight with 3 aspherical lenses and the front lens equipped with large diameter double-sided aspherical lenses, 4 ED lenses, Alneo coat, and nanocrystal coat, all of the latest technology at present.
Private Memoirs
Actually, this lens is not sold at the time of writing (September 2020).
This blog is not a news introduction blog, so it is important to publish it as a newspaper after confirming the actual copy of the work.
But I had a reason to want to analyze this lens.
First of all, I'd like to confirm the performance improvement that was redesigned for mirrorless single-lens cameras.
Mirrorless cameras eliminate the quick-return mirror from conventional single-lens reflex cameras, creating a free space on the image sensor side.
Wide-angle lenses (shorter lenses) are said to be more effective in improving performance and reducing size.
Therefore, by analyzing the design values of the 14-24F2.8, which is the symbol of NIKON wide-angle zoom, we intend to verify the effectiveness of the zoom.
The wide-angle lens is also closely related to the development of aspherical lens technology, and I would like to verify what kind of technological development has been made more than 10 years since the previous F-Mount 14-24F2.8.
In addition, this article is the first analysis of a zoom lens, but in the case of a zoom lens, the first part is "wide-angle end part" and the second part is "telephoto end part" and we publish the article in two parts.
Document Survey
This lens is rare and the patent was released before the product was sold.
First of all, it takes two to three years from the filing of a patent application to its publication, but from experience, it is a common pattern that patent documents are made public about six months to one year after product sales start.
The fact that the patent was made public earlier means that it took so much time to develop and apply for the patent at that early stage, so the "way of putting effort" comes out.
The patent for this lens was not only filed early, but several applications were filed at the same time, so I feel that it is not too much to put effort into.
It is difficult to decide which one is close to the product because there were several cases. However, since the degree of matching of the shape and the patent content are close to the basic configuration of the product lens, JP-A-No. 2020-134806 Example 9 is reproduced below the design value.
Notes!
The following design values have been selected and reproduced from the appropriate patent literature and do not correspond to the actual product. Naturally, the data is not guaranteed, and I am not responsible for any accidents or damages that may occur by using this data.
Analysis of Design Values
Optical Path Diagram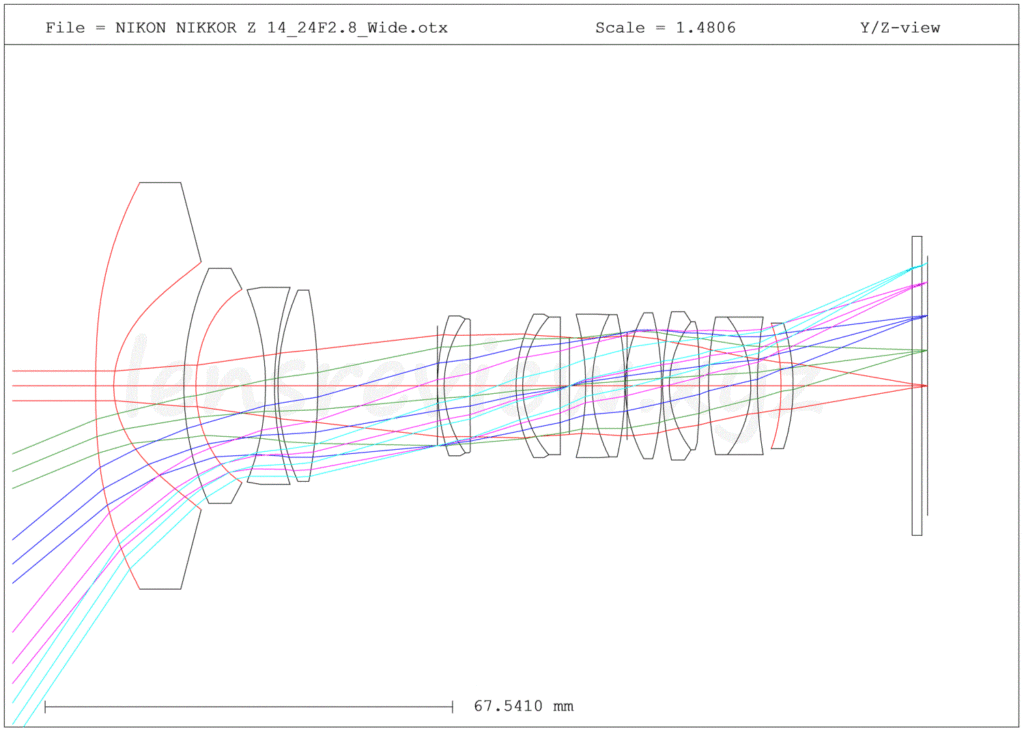 The above figure shows the optical path of the NIKKOR Z14-24F 2.8 wide-angle end (14 mm).
It has 16 lenses in 11 groups, 4 ED lenses to correct chromatic aberration, and 3 aspherical lenses.
The first lens that draws attention is the large diameter double-sided aspherical lens which is the first lens on the most subject side.
There is no description of how it is processed because of its rather irregular shape, but it must be expensive.
Thanks to advances in processing technology for such large-diameter aspherical lenses, ultra-wide-angle zoom has been achieved.
In addition, the former super wide-angle lens had a so-called rake shape with the first lens protruding, but this lens uses many aspherical lenses to suppress the rake shape considerably.
Although it is not listed in the catalog, two flare cut apertures are placed before and after the aperture.
According to the performance of this flare cut aperture, it seems that the aperture is appropriately switched in accordance with the zoom drive, and the aperture changes between the wide-angle end and the telephoto end.
I don't remember hearing about a lens that has two light adjustment mechanisms in addition to the aperture, so I imagine that the mechanical mechanism is quite complicated and special.
Longitudinal Aberration
Spherical Aberration, Field Curvature, Distortion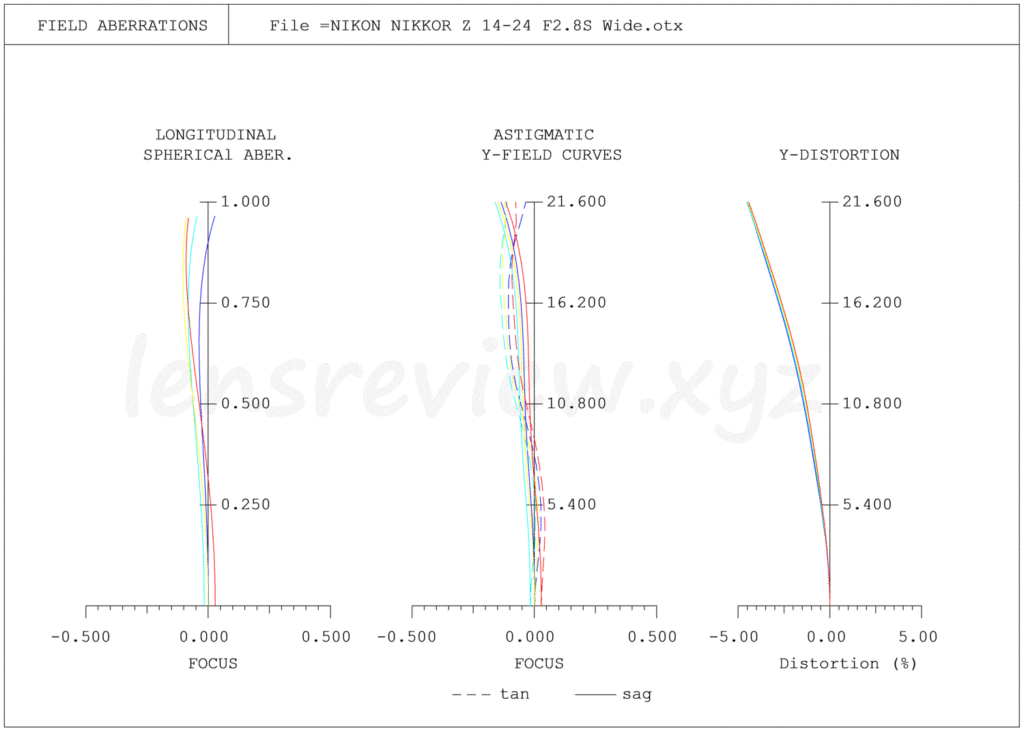 The spherical aberration has a shape that slightly bulges to the minus side. The curvature of field is also slightly tilted to the minus side, so it must have been balanced.
If you consider the brightness of F2.8 in the zoom, it is sufficiently corrected.
The amount of axial chromatic aberration is also small enough.
The curvature of field is slightly tilted to the minus side in the whole, but considering Fno and so on, it seems that the amount is not enough to worry about.
Maybe because of the super-wide angle, a large amount of up to 5% will remain.
With a cheap zoom lens, distortion aberration of up to 5% is often seen, so it is not an abnormal amount, and considering the specification of super wide-angle zoom, it can be said that it is doing well.
Also, with recent cameras, distortion can be corrected by image processing, so it may be a policy to correct by image processing.
In particular, the Z-mount lens is only for mirrorless cameras, and the state before processing is not seen by the optical finder which cannot perform image processing, so it may not be a big problem at present whether to "make optical correction" or "rely on image processing".
Even if there is no correction, it is a kind of large amount with conventional lenses.
Also, there may be many people who think that it is better to have distortion aberration because it is an ultra-wide lens.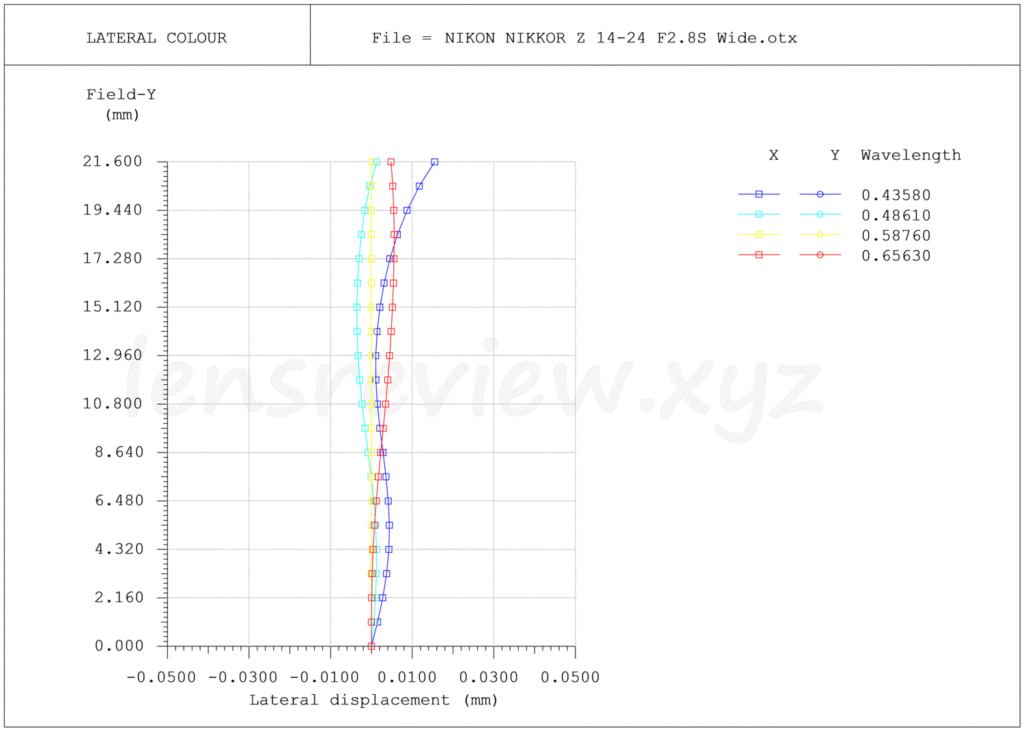 The chromatic aberration of magnification is so small that you forget that it is at the wide-angle end of wide-angle, large-aperture zoom, even though it swells many times uncanny.
Transverse Aberrations
(Left)Tangential direction, (Right)Sagittal direction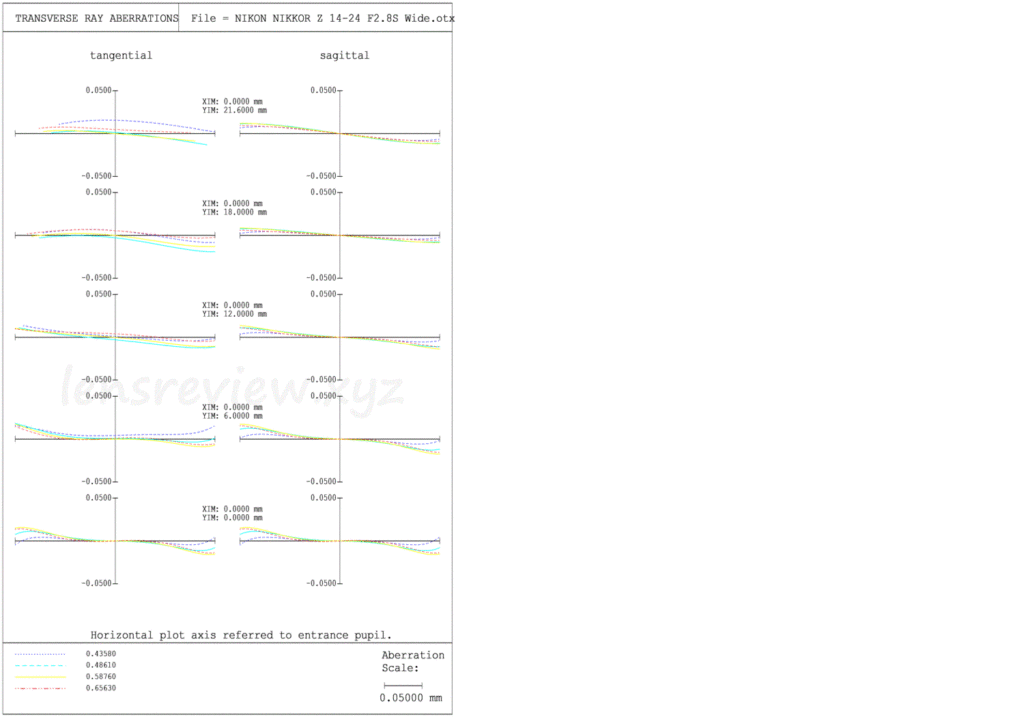 Let's look at it as a transverse aberration.
Almost straight. It's a shocking correction.
Comparing with past analysis cases, Fno is different, but even SIGMA Art lens is not corrected up to this level.
Nikkoor Z50mm F1.8 or Z50mm F was also high performance and shocking, but it seems to exceed it.
Spot Diagram
Spot Scale 0.3 (Standard)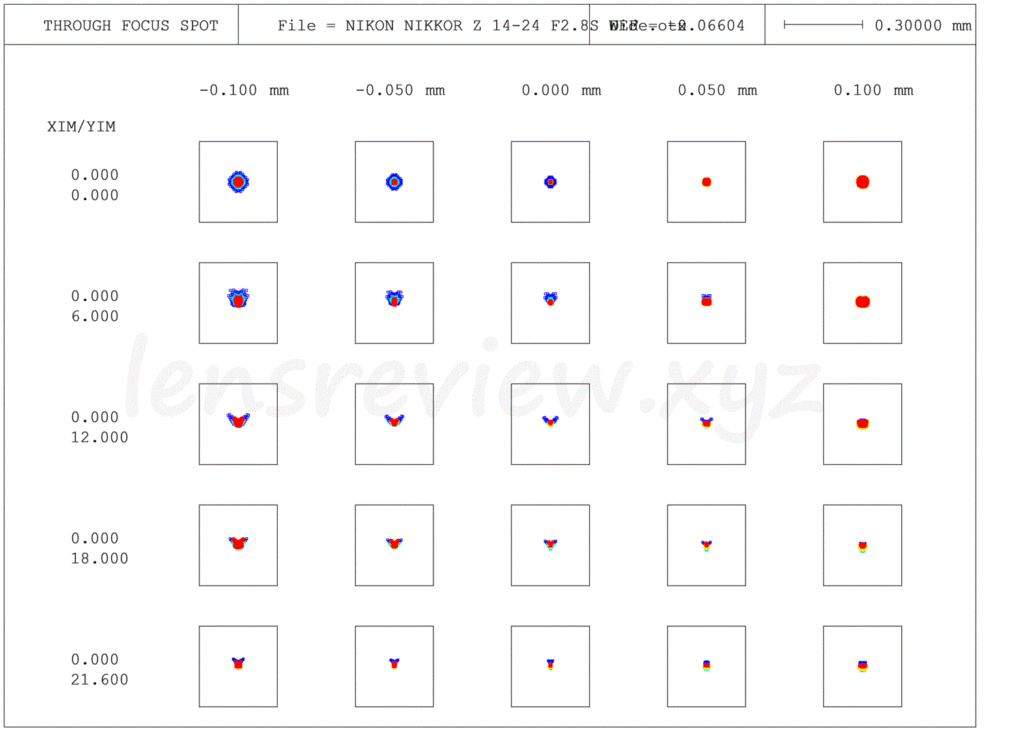 This is the result of optical simulation, but first let's look at the spot diagram.
Since the correction condition of the transverse aberrations is so good, it is well organized.
Spot Scale 0.1 (Detail)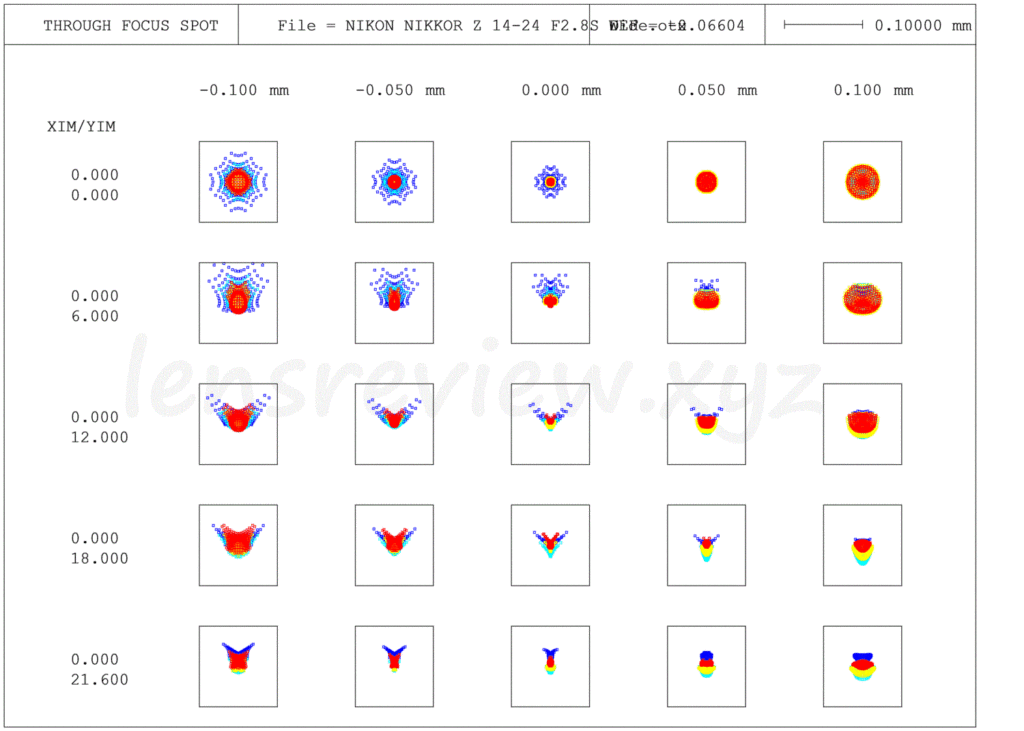 This is an enlarged view of the spot by changing the scale.
Even if it is enlarged, the size itself is very small.
Even with single-focus lenses, 14 mm, which is corrected to this level, did not exist in the past.
It can be said that it is a benefit of mirrorless and large diameter mounting.
MTF
Maximum Aperture F2.8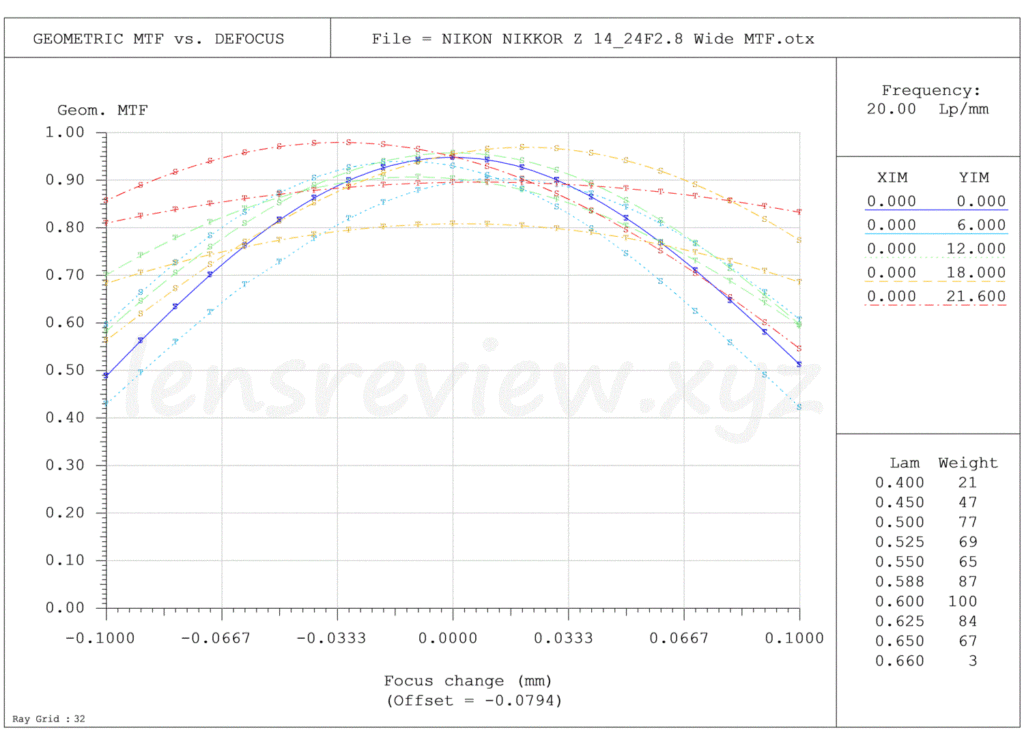 Finally, let's examine the results of the MTF simulation.
The shock MTF height over the entire screen from release.
Small Aperture F4.0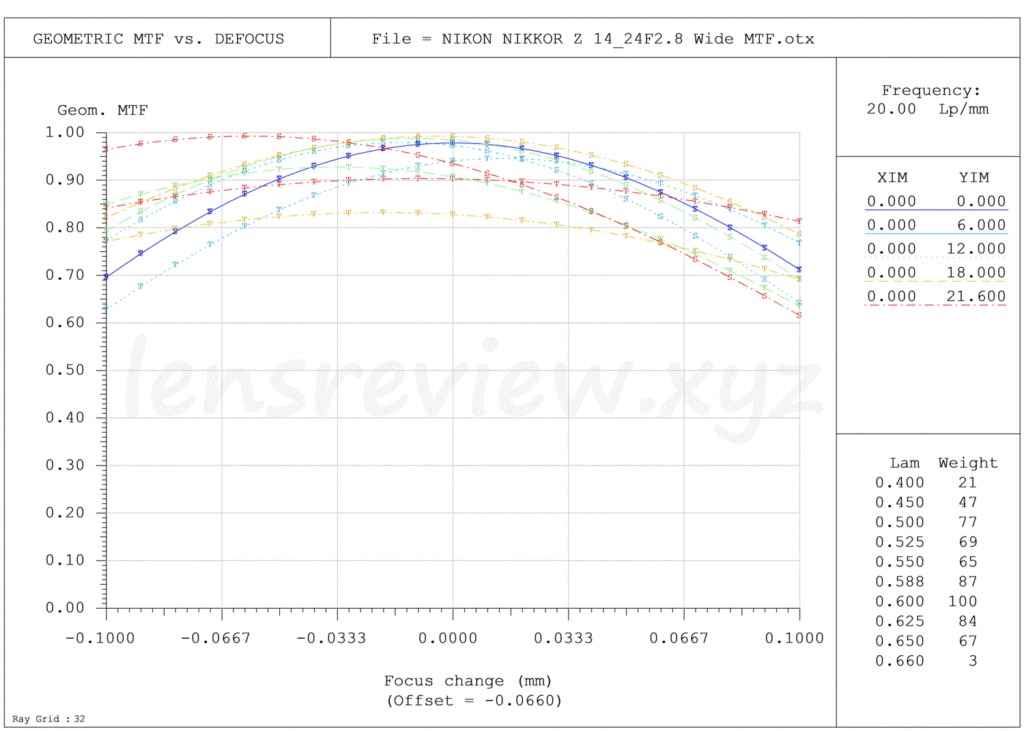 THE OPENING PERFORMANCE IS SO GOOD THAT THERE'S NO DIFFERENCE.
Conclusion
We found that this lens, which is believed to have brought out the advantages of the mirrorless lens, which is superior to wide-angle lenses, to the maximum extent, has an ultra-high performance that makes it hard to believe that it is a zoom lens.
Perhaps it will be a must-have item for those who specialize in stars and want a zoom, which is sure to become a loan.
This is an item that you can enjoy live-action photography.
Sample Picture
Example photos are in preparation.
If you are looking for analysis information on other lenses, please refer to the table of contents page here.