This is a performance analysis and review article of the NIKON NIKKOR Z 35mm F1.8S.
You hardly understand the specific differences in how the lenses work and how their performance differs from each other, do you?
Even if you look it up in magazines or on the Internet, all you will find are similar "word-of-mouth recommendations" and articles like that.
In this blog, while researching the history of lenses and their historical background, we estimate lens design performance based on patent information and actual shooting examples, and analyze lens performance in detail from a technical viewpoint through simulations.
Professional lens designer Jin Takayama will carefully unravel optical characteristics such as optical path diagrams and aberrations, which are generally not visible, and explain the taste and descriptive performance of lenses in a deep and gentle manner.
Now, please enjoy the special information that you can read only on this blog in the world.
Overview
The NIKON NIKKOR Z35mm f / 1.8 is Nikon's first full-size mirrorless camera Z-series exclusive lens, launched at the same time as the Z-mount camera.
Among NIKON's F-mount lenses, there are many types of 35 mm focal length lenses, but there is only one product with the same Fno, F1.8, and it is only AF-S NIKKOR 35 mm f/1.8G ED (original 35 mm f/1.8), which was released in the latter stage of F-mount lenses.
In the previous article, we analyzed the original 35 mm f / 1.8 lens.
Also Read: AF-S NIKKOR 35 mm f/1.8G ED
By the way, there is a lens called AF-S DX NIKKOR 35 mm f/1.8G, but this also has a focal length of 35 mm, but since it is for DX size (APS size), the actual angle of view is about 50 mm focal length in full-size conversion, so please be careful not to confuse it.
Private Memoirs
If you think back, NIKON's full-size mirrorless camera Z series was finally released in the summer of 2018.
If I remember correctly, this NIKKOR Z 35 mm f / 1.8 was released at the same time as the Z series, and the standard lens Z 50 mm f / 1.8 was announced at the same time, but it was released several months later.
At that time, I thought that it was an "unusual policy" to release both 35 mm and 50 mm in f / 1.8 at the same time, but the subsequent single-focus lineup of Z-mount lenses was expanded with f / 1.8 as the main axis, which shows that there was a bold policy without blurring that was envisioned from the early development of the series.
As expected, Nikon, a global optical manufacturer, seems to have a very strong conviction.
In addition, although it is an analysis article a while ago, in the past, when I did NIKKOR Z50F 1.8, it was a high-performance lens at the level of fear that "a lens with the same specification that exceeds this will not come out in the future".
Also Read: NIKKOR Z 50 mm f/1.8 s
I'm sure the Z35mm f / 1.8 is also a high-impact performance. Let's analyze it right away.
Document Survey
After a lot of research, there was a document in the form of an international publication that seems to be a patent related to the NIKKOR Z 35 mm f / 1.8. Assuming that Example 4 was commercialized from Japanese Patent Application Laid-Open No. 2019 / 090947 based on the usual visual judgment, the design data will be reproduced below.
Notes!
The following design values have been selected and reproduced from the appropriate patent literature and do not correspond to the actual product. Naturally, the data is not guaranteed, and I am not responsible for any accidents or damages that may occur by using this data.
Analysis of Design Values
Optical Path Diagram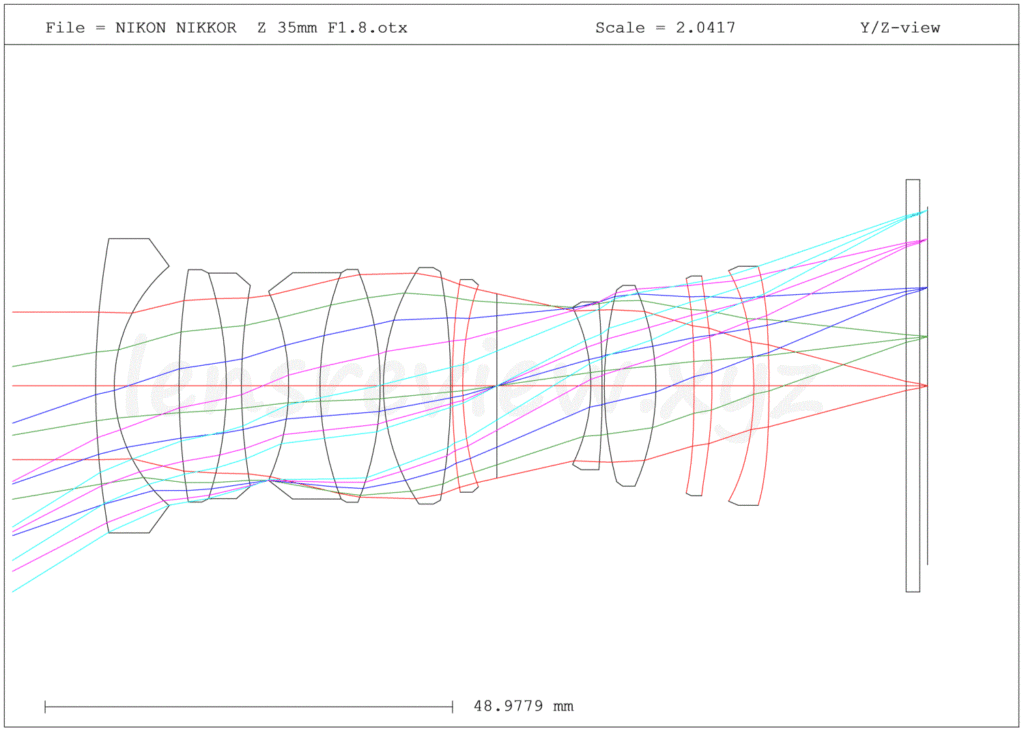 The above diagram shows the optical path of the NIKON NIKKOR Z 35 mm f / 1.8 s.
Composed of 9 groups and 11 lenses, the 6th and 9th lenses use a special low-dispersion material (ED lens) to correct chromatic aberration, and the 7th, 10th and 11th lenses use aspherical lenses.
At the time of focusing, it seems to be a multi-focus configuration (floating focus) in which the two groups are independently moved and controlled. According to the patent document, the eighth and ninth lenses are moved as the first focusing group and the G10 lens is moved as the second focusing group.
When it comes to the focal length of 35 mm f / 1.8, it is easy to think that it is a relatively common specification, but the introduction of "2 ED lenses", "3 aspherical lenses" and "multi-focus mechanism" can be said to be the "ultimate luxury" configuration.
It can be said that it is a retrofocus type in which a strong concave lens component is placed on the subject side, but the composition is complicated and it is difficult to name the type.
The strange thing is that the focal length and Fno are different, but they look similar to the SONY FE 50 mm f / 1.4 ze that we analyzed in the past.
Also Read: SONY FE 50 mm F1.4 ZE
Does it mean that the mirrorless lens has this kind of structure?
Longitudinal Aberration
Graphs of spherical aberration, image surface curvature, and distortion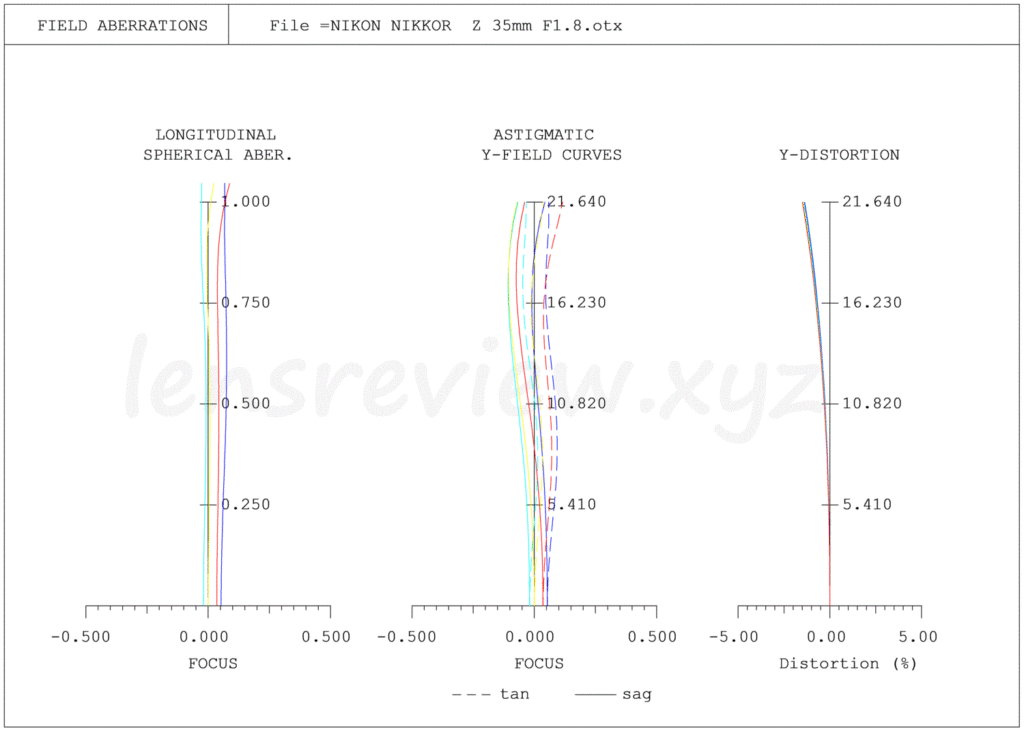 If you look at the spherical aberration, it is almost a straight line as the luxury of the cross-sectional view.
This lens is too good.
Considering the number of axial chromatic aberration, it seems to be a little bit smaller, but it may be just a luxury disease.
Chromatic aberration is an aberration that is difficult to reproduce, so there may be a problem with my reproduction accuracy, but.
Field curvature is approximately a straight line like spherical aberration.
Speaking of NIKON 35 mm and tasteful lens, it is NIKKOR 35 mm f / 2.0D. Please check the aberration chart of the link destination and examine the aberration.
Also Read: NIKKOR 35 mm f / 2.0D
The distortion aberration is slightly barrel-shaped, but it is about 1% at the maximum, so it will be at a level that cannot be understood in practice.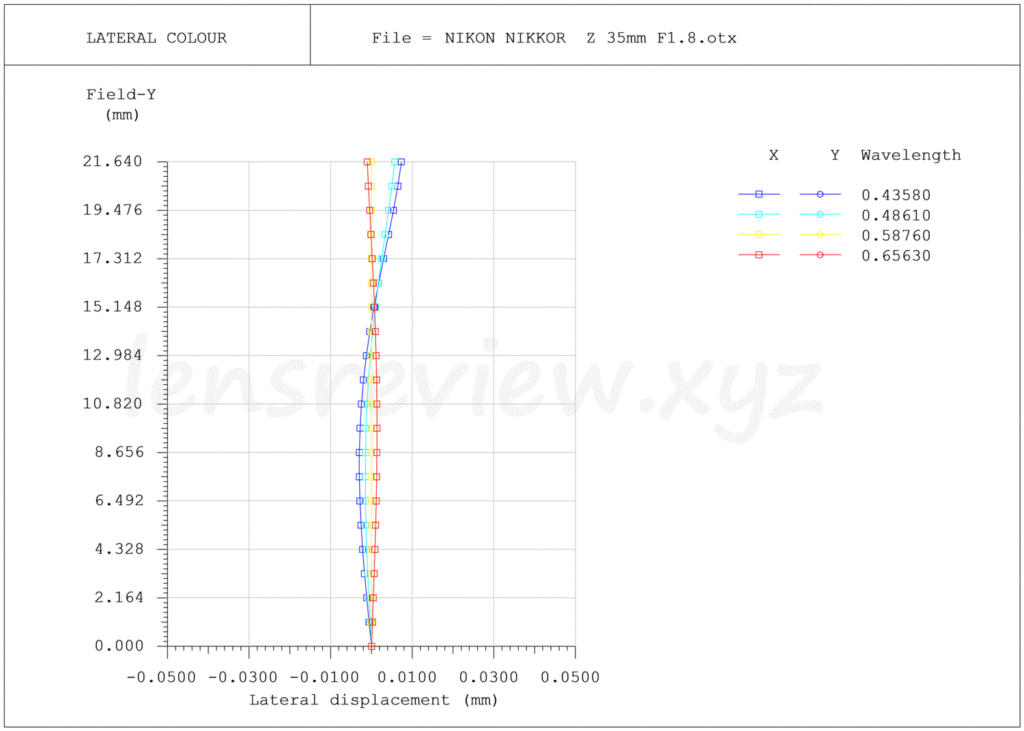 Lateral chromatic aberrations has a very ominous curve, It seems that the average value over the entire screen is small.
Transverse Aberrations
(Left)Tangential direction, (Right)Sagittal direction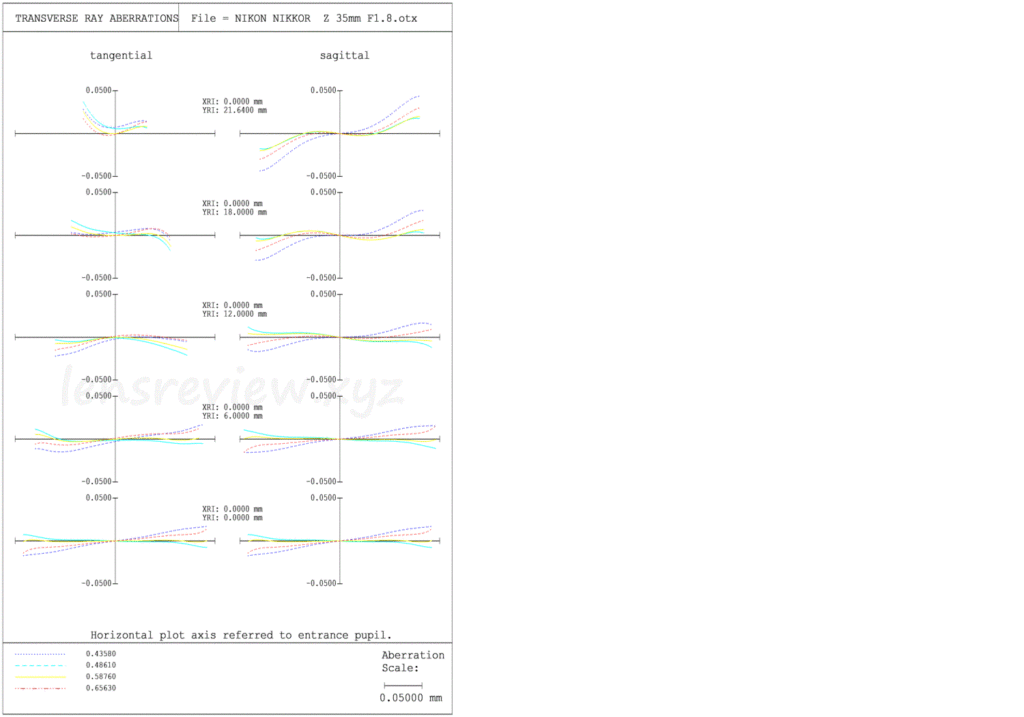 Let's look at it as a lateral aberration.
Fno in the area that can be said to be a large aperture, but there is less sagittal coma flare.
When the AF-S NIKKOR 58 mm f/1.4G was released, it was said that "it is important to organize in three dimensional hi-fi". It is small enough to ask again.
For the analysis of AF-S NIKKOR 58 mm f/1.4G and "Hi-Fi in three dimensions", please refer to the following.
Related Article: AF-S NIKKOR 58 mm f/1.4G
Spot Diagram
Spot Scale 0.3 (Standard)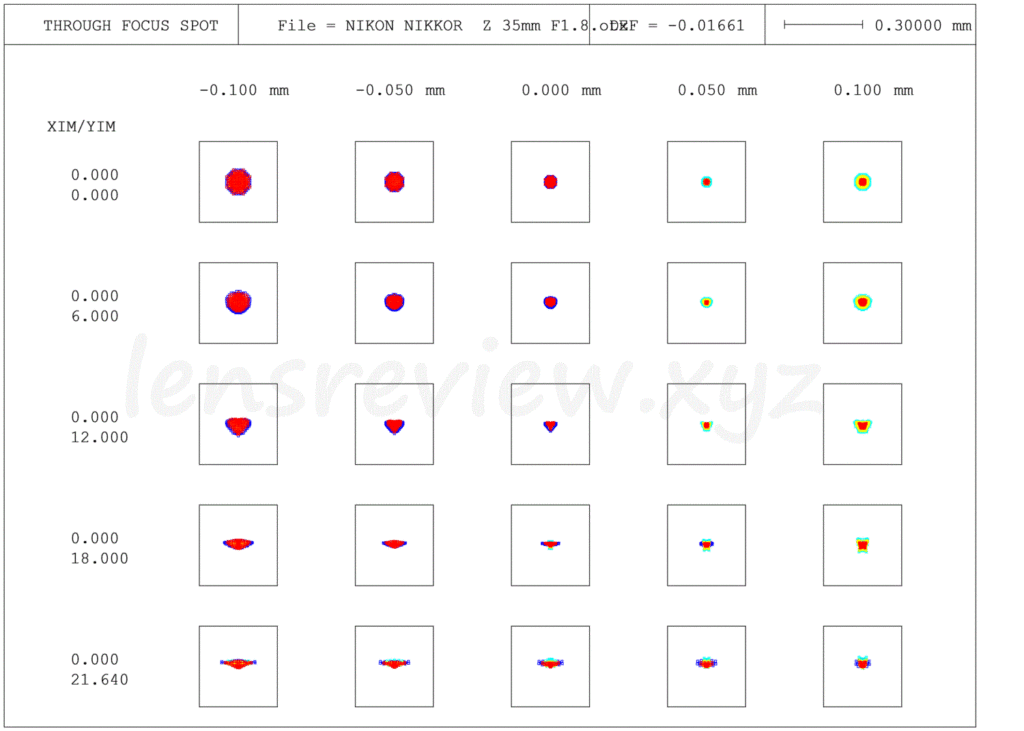 Now let's look at the optical simulation results, but first let's look at the spot diagram.
On the standard scale, it is almost a point in the whole area.
Spot Scale 0.1 (Detail)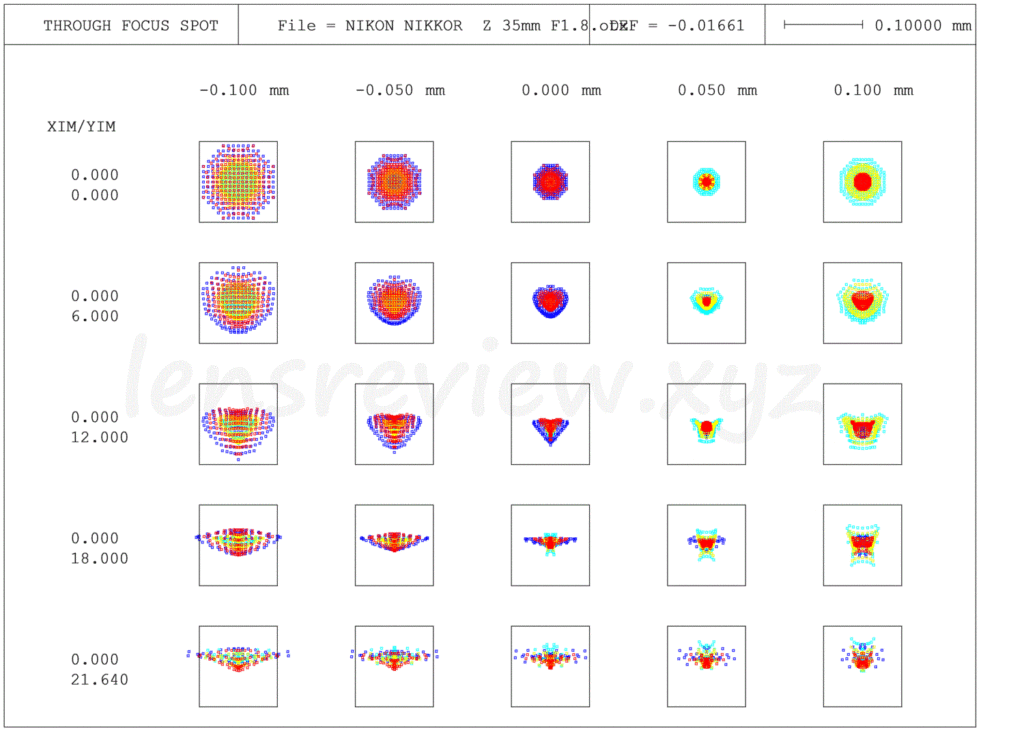 Finally, let's look at the results of the MTF simulation.
The entire screen area is uniformly high at the level of misjudging which mountain of the graph is the characteristic of the screen center.
MTF
Maximum Aperture F 1.8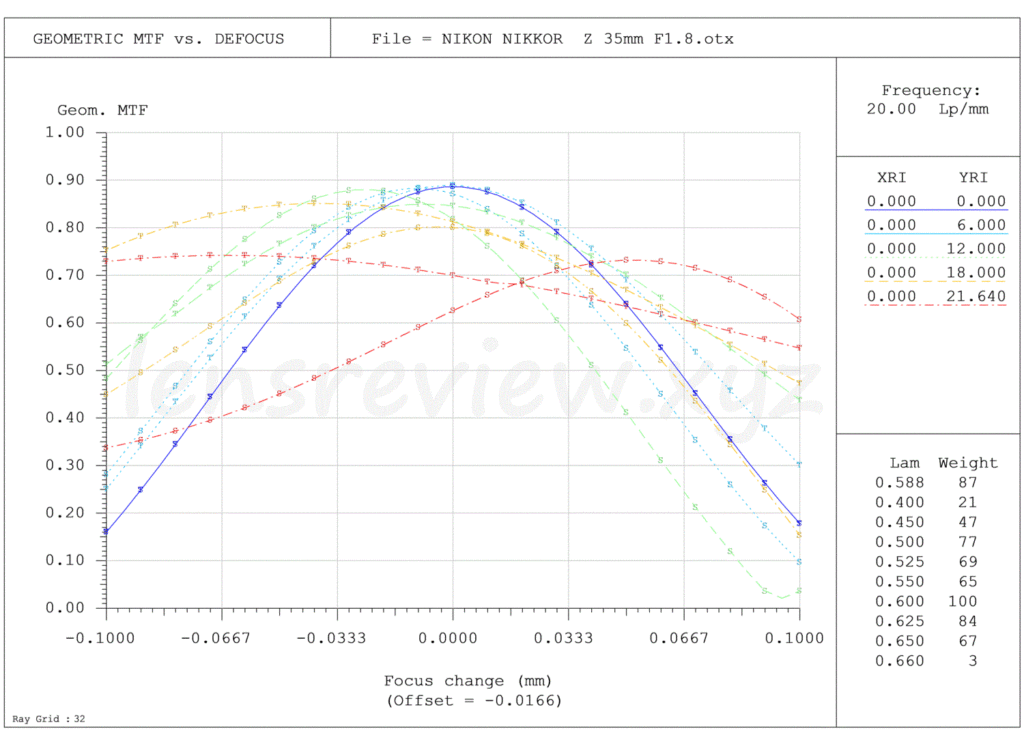 Small Aperture F4.0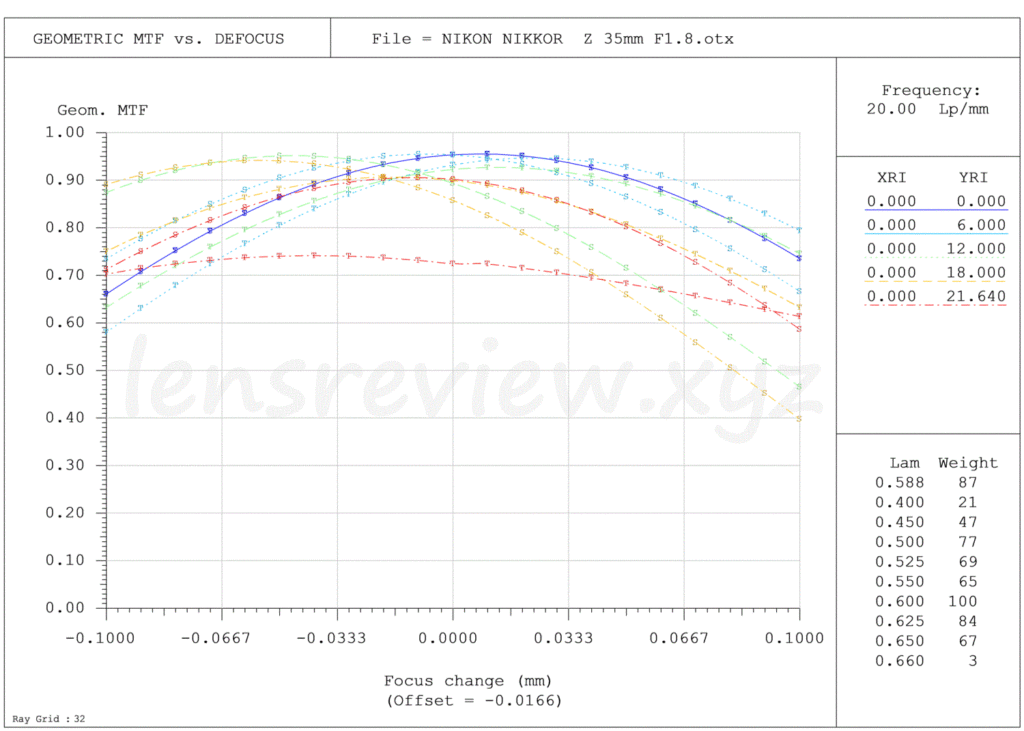 Conclusion
I expected it, but now I know the performance is excellent.
Although it is somewhat expensive, there is no doubt that it is a lens that represents the NIKON mirrorless lens, in which technologies such as "two ED lenses," "three aspherical lenses," and "multi-focus mechanism," which match the price, have been introduced.
At a later date, we are planning to compare and verify it with the first generation 35 mm f / 1.8, so please look forward to it.
Sample Picture
Example photos are in preparation.
If you are looking for analysis information on other lenses, please refer to the table of contents page here.