This is a performance analysis and review article of the Apple iPhone Standard Lens.
Today (as of 2021), people all over the world have smartphones, but it is even said that the functions of compact cameras have improved rapidly in recent years, putting pressure on the camera market.
On the other hand, it is a smartphone that everyone always wears, but there are very few people who know the mechanism and structure as a camera.
In the first place, even if you are told that it has a built-in camera, it is a size that makes you wonder, "Is it really a lens?"
Therefore, in this article, we estimate the design value of the optical system of the lens of the smartphone camera represented by the Apple iPhone from the patent information and the production example of the real picture, and analyze the lens performance by simulation.
Please enjoy the special information that can only be read on this blog in the world.
Overview
In recent years, smartphones, such as the Apple iPhone, have developed into a structure in which multiple cameras are mounted side by side, which is called "multi-lens", and this has led to the realization of pseudo-zooming.
At the time of writing, the latest model, the Apple iPhone 13 Pro, has three cameras lined up on the back, with three cameras: ultra-wide, wide, and telephoto.
The lens specifications (focal length and Fno) for this camera are as follows:
Ultra-wide: 13mm F1.8 focal length
Wide Angle: Focal Length 26mm F1.5
Telephoto: Focal length 77mm F2.8
*Focal length is full-size equivalent.
Until now, the Apple iPhone always has a lens with a focal length of around 28 mm as a "wide-angle lens" in full-size conversion.
By the way, it doesn't have a lens with a focal length of around 50 mm, so the name "standard lens" doesn't seem to be used in the technical documents released by Apple. He may be a little concerned about Kameota.
This article takes a deeper look at the Apple iPhone's "wide-angle lens."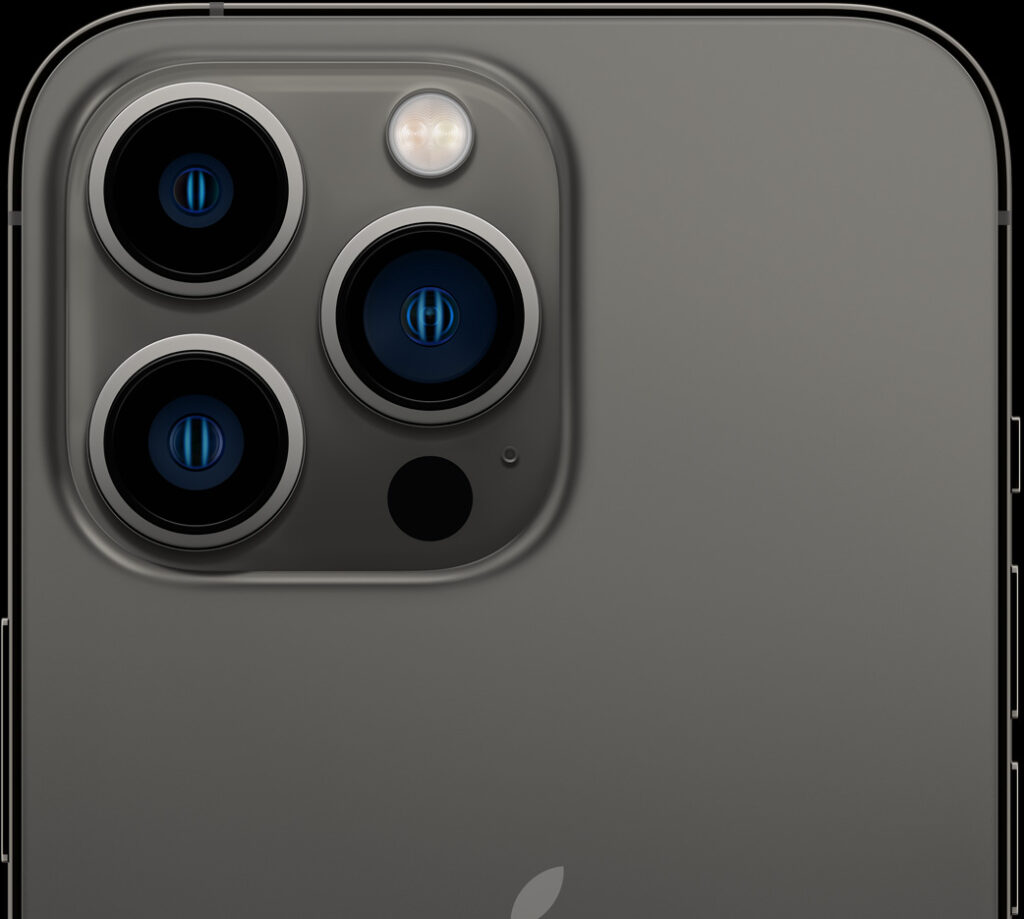 Private Memoirs
Since this is the first time that we introduce smartphone lenses represented by the Apple iPhone, we first investigated the wide-angle lenses of successive Apple iPhones.
| | | | | | | | | | |
| --- | --- | --- | --- | --- | --- | --- | --- | --- | --- |
| | iPhone4 | iPhone5 | iPhone6 | iPhone7 | iPhone8 | iPhoneX | iPhone11 | iPhone12 | iPhone13 |
| angle | 68 | 73 | 73 | 75 | 75 | 75 | 80 | 80 | 80 |
| Focal length | 32 | 29 | 29 | 28 | 28 | 28 | 26 | 26 | 26 |
| Fno | 2.4 | 2.4 | 2.2 | 1.8 | 1.8 | 1.8 | 1.8 | 1.6 | 1.5 |
| lenses | 4 | 5 | 5 | 6 | 6 | 6 | 6 | 7 | 7 |
| COMS pixels | 5million | 8million | 8million | 12million | 12million | 12million | 12million | 12million | 12million |
| Launch Year | 2010 | 2012 | 2014 | 2016 | 2017 | 2017 | 2019 | 2020 | 2021 |
Here's a quick look at the iphone5's camera-friendly performance.
As you can see in the table, the converted focal length at the beginning of the iPhone was 32 mm, but in recent years it seems to have settled down to 26 mm as the angle has gradually widened.
The number of lenses has increased from about 4 in iPhone4 to 7 in iPhone12.
Along with that, the Fno is also becoming larger in diameter.
I will introduce it in detail in the next section, but the lens we analyze in detail this time is expected to be close to the iPhone8, so it is in red in the above table.
Document Survey
In the first place, Apple does not develop or manufacture the camera module including the lens of Apple iPhone.
Largan Precision Co., Ltd. in Taiwan is entrusted with this project.
In addition, it seems that there are some companies other than Largan that develop camera lenses for smartphones, and there is a possibility that they further outsource the development and manufacturing of lenses to outside companies, so I don't know the actual situation.
However, dozens of patents are filed every month for lenses that seem to be for smartphones, but they all look the same and don't seem to have much difference in performance.
Probably, every time a new material is developed, they try to make it a little smaller or apply for it with slightly different specifications.
Unlike camera manufacturers, smartphone manufacturers don't disclose lens configurations, and there are so many applications that we don't really know what lenses are in which smartphones, but it's not very important to guess the exact design value in order to know the rendering performance, because the specifications and performance are just a comparison of acorns.
Conversely, we know that Apple has filed only a few patents for lenses.
My guess is that Apple is filing to own the rights to a significant part of the product.
The actual design is something like Largan, so it may be a little different from the direct product, but the patent is close enough to the truth that Apple, which usually doesn't patent lenses, is obsessed with.
One of them is US2017/0299845, which has been filed in the United States, and it seems that it is a patented lens structure that reduces the reflection inside the lens, which is generally called ghosting.
It is probably an extremely important technology for reducing ghosts in the lens of the Apple iPhone. In addition, it is presumed that the examples described in such important patents are also deeply reflected in actual products.
Therefore, in this article, Example 1 will be reproduced below as design data.
In addition, the filing date of this patent was 2016, and the focal length specification of Example 1 is 28 mm F1.8, so it is estimated that it is close to the optical system adopted in the iPhone8.
Notes!
The following design values have been selected and reproduced from the appropriate patent literature and do not correspond to the actual product. Naturally, the data is not guaranteed, and I am not responsible for any accidents or damages that may occur by using this data.
Analysis of Design Values
Many of the lenses in this blog are full-size lenses, but this lens is for smartphones, so the image sensor is very small.
The size of the image sensor calculated backward from the patent information is about 6 mm in diagonal length, which is the image sensor size generally called "1/3 inch type".
By the way, the diagonal length of the full-size sensor is about 42 mm, so the size ratio is 7 times.
In our blog, we scale the graph to make it easier to compare with the full-size sensor lens.
To put it in terms of an image, the graphs are created so that the relationship is "If the iPhone lens is enlarged to full size, it will be like this".
As a note of caution, there is no particular problem in this evaluation in terms of lens (optical), but as an actual photograph, a camera with a small sensor is inferior to a larger sensor in terms of noise and the number of pixels, and it is said that a smartphone has various image processing different from a general camera, so it is difficult to make a simple comparison.
Optical Path Diagram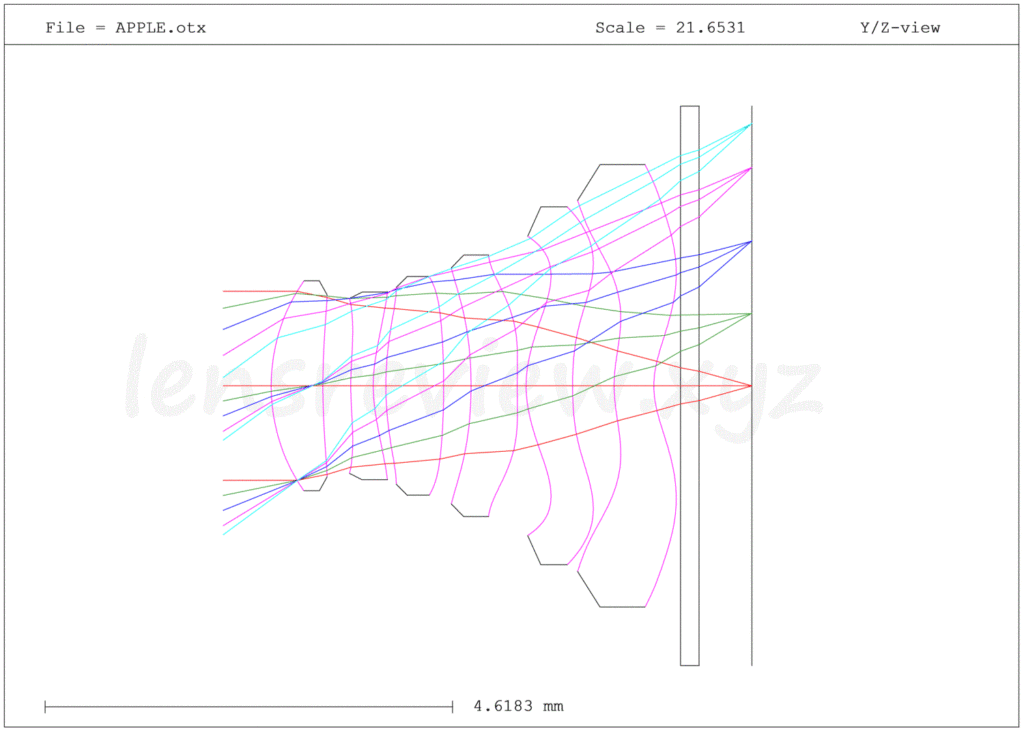 Above is an optical path diagram that appears to be close to the Apple iPhone 8 lens.
Consists of 6 groups of 6 lenses, all of which are aspherical.
If you see it for the first time, I would like you to write "What kind of impression do you have?" in the comment column if possible, but aren't you surprised that more sheets are used than expected?
As many as 6 lenses fit in that thin smartphone case.
If you don't know anything, isn't it rather normal to think, "Isn't it just one lens?"
Looking at each lens, from the characteristic value of the material, it seems that all lenses are plastic (resin) material.
Since it is a plastic lens, it is assumed that it is processed by injection molding.
Injection molding is a processing method in which a molten material (plastic) is poured into a metal mold and solidified, the same as pouring molten chocolate into a mold and solidifying it.
But at first glance, you can see that it is quite different from the full-size lenses that we usually cover in this blog.
The first lens closest to the subject is a convex lens, and up to the fourth lens, you can somehow tell whether it is a convex lens or a concave lens by looking at it, but from around the fifth lens, it is a form that makes you hesitate a little, "Is it appropriate to call this a lens?"
In particular, what is the shape of the sixth lens, which is closest to the image sensor?
V-sign? Boomerang? Bird wing?
Regarding the overall size, the thickness of each lens is less than 1 mm, and the total thickness from the first lens to the image sensor is about 5.5 mm.
Longitudinal Aberration
Graphs of spherical aberration, image surface curvature, and distortion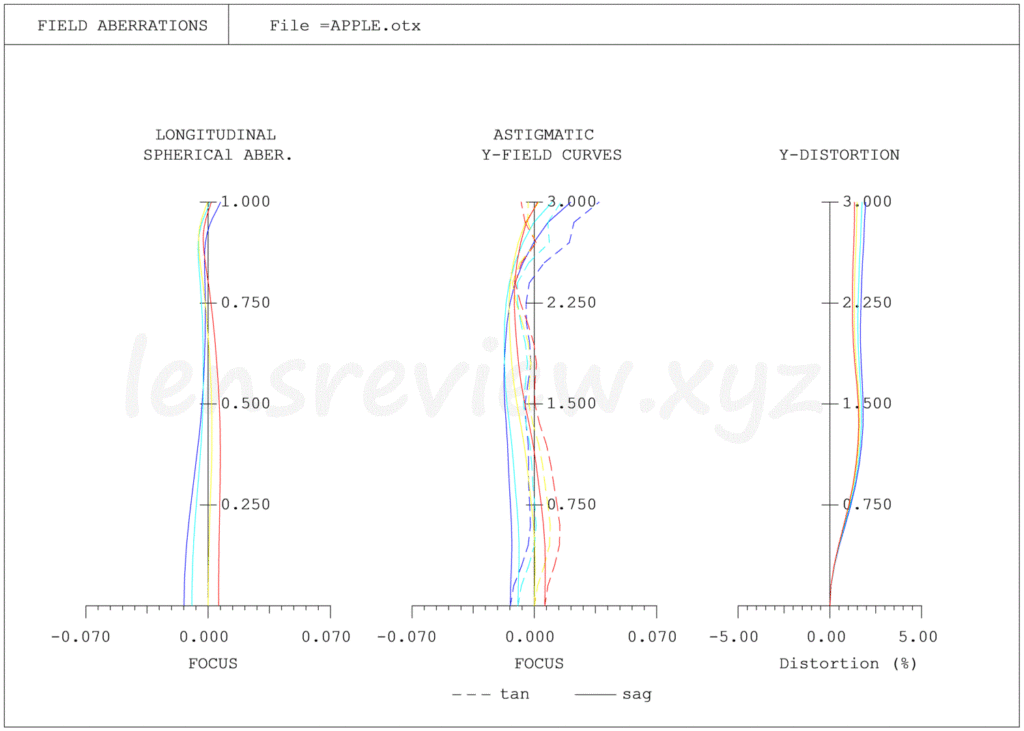 Let's take a look at the spherical aberration. It seems to be corrected to a very minimum. A typical full-size lens has 2 or 3 aspherical lenses at most, but this lens has all 6 aspherical lenses, so it is easy to correct.
There is a little bit more axial chromatic aberration, but smartphone lenses don't have an aperture, so it's okay if they are put together in a shape that doesn't stand out only when they are open, so there should be no problem.
Because field curvature has many aspherical lenses, it has a complex inflection shape.
It's probably trying to suppress the curvature component on average over the entire screen. It's not very small, but it's a passing grade level.
The distortion aberration is a wide-angle lens, but it is slightly shifted to the winding shape of the plus side.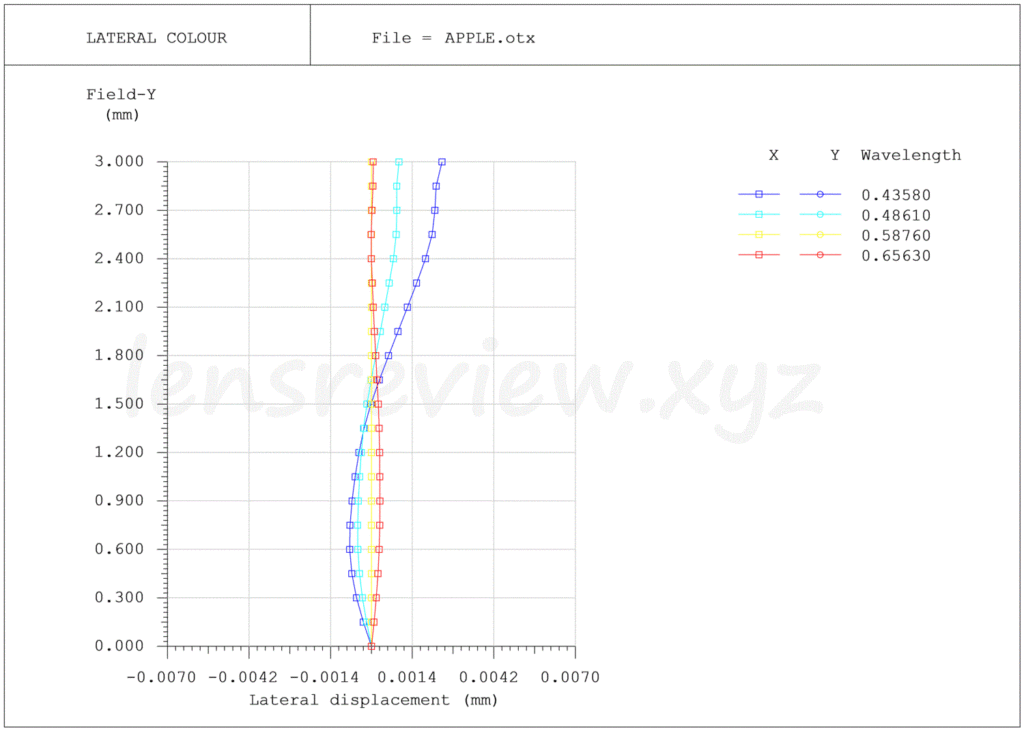 The lateral chromatic aberrations seems to be large, but I think the reason is that it is made of plastic material.
Unlike ordinary optical glass, there are few types of plastic lens materials, and there is no material with a high color correction effect, so it is difficult to correct chromatic aberration, and this degree is probably the limit.
However, lateral chromatic aberrations is an aberration that is easy to correct in image processing, so it may not be a problem.
Transverse Aberrations
(Left)Tangential direction, (Right)Sagittal direction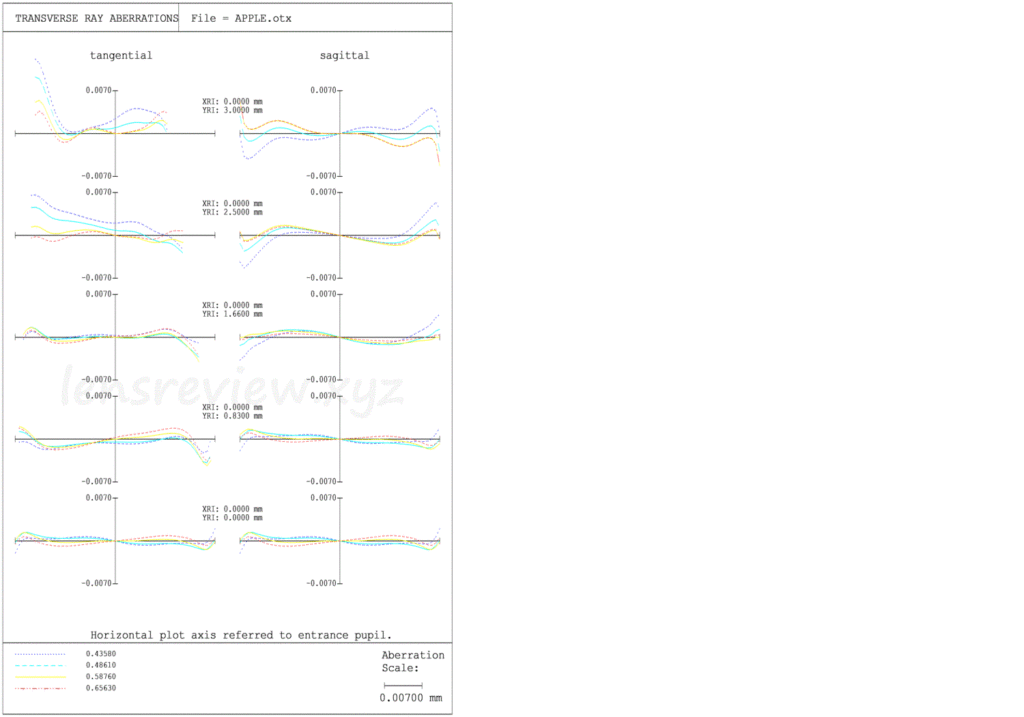 Let's look at it as a lateral aberration.
The sagittal aberration is extremely small for a large aperture of f / 1.8.
On the other hand, in the tangential direction, the fluctuation at the corner of the screen is a little noticeable, but it is mainly caused by the deviation of color components (red and blue), so the lateral chromatic aberrations is not suppressed.
Spot Diagram
Spot Scale 0.3 (Standard)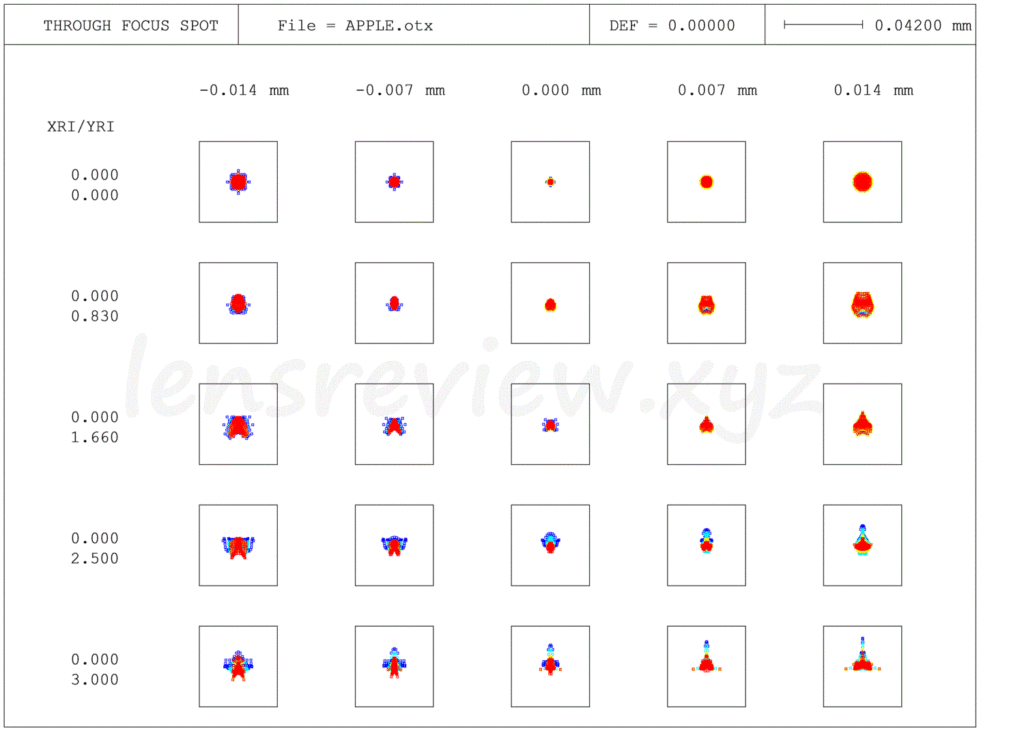 Now let's look at the optical simulation results, but first let's look at the spot diagram.
Since the spherical aberration is suppressed well, the spot from the center to the middle part is sufficiently small and good.
In the peripheral part, there is little aberration in the sagittal direction, so there is no V-shaped feeling, but you can see that the g-line (blue) and the C-line (red) are separated in the vertical direction, which indicates that the lateral chromatic aberrations is large.
Spot Scale 0.1 (Detail)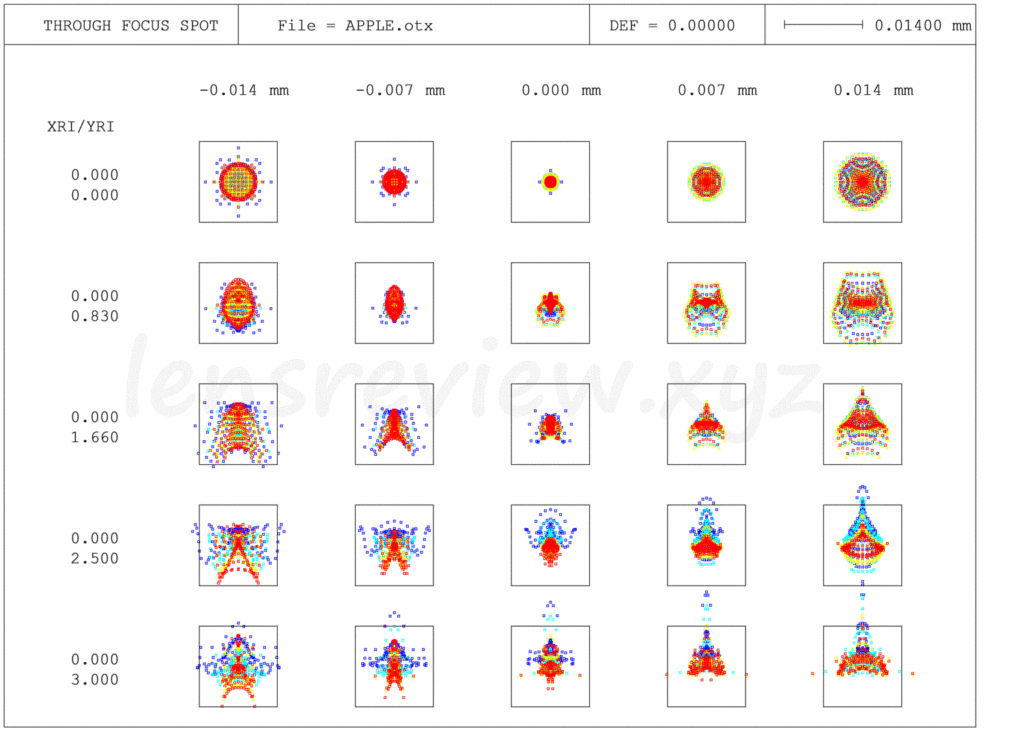 MTF
Maximum Aperture F2.8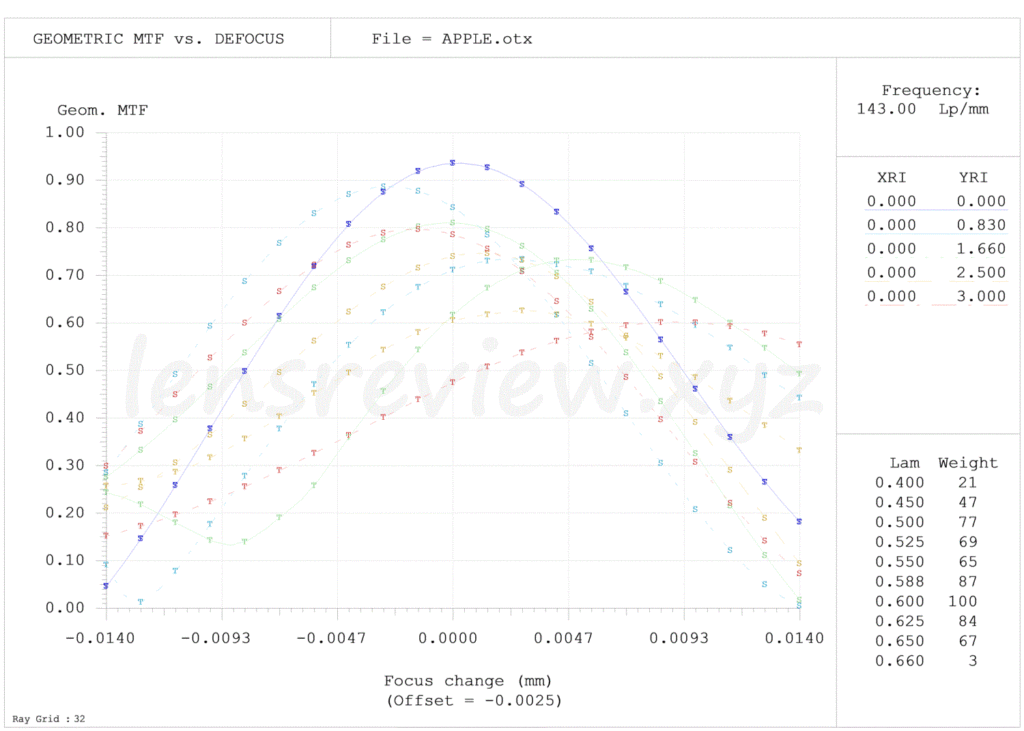 Finally, let's look at the results of the MTF simulation.
The peak of the mountain near the center of the screen is extremely high, and it has a high resolution comparable to high-grade lenses such as SIGMA Art and SONY GM, but there is a little disturbance in the cluster of the mountain in the peripheral part, and as expected, it is close to the level of general lenses.
In addition, in the usual analysis article, the MTF characteristic diagram of the small aperture (around F4) is described after this, but since the iris aperture is not installed in the smartphone, it will be omitted.
Conclusion
The feature of a smartphone lens is that all the lenses are aspherical lenses that are as thin as possible. On the other hand, modern technology still requires the use of many lenses to form images.
In recent years, the camera market has been greatly affected by the impact of smartphones, but it can be said that lens technology is still important and indispensable.
In the future, if these technologies are installed in camera lenses in a reverse import manner, cameras may lead to more interesting developments.
Sample Picture
Example photos are in preparation.
If you are looking for analysis information on other lenses, please refer to the table of contents page here.